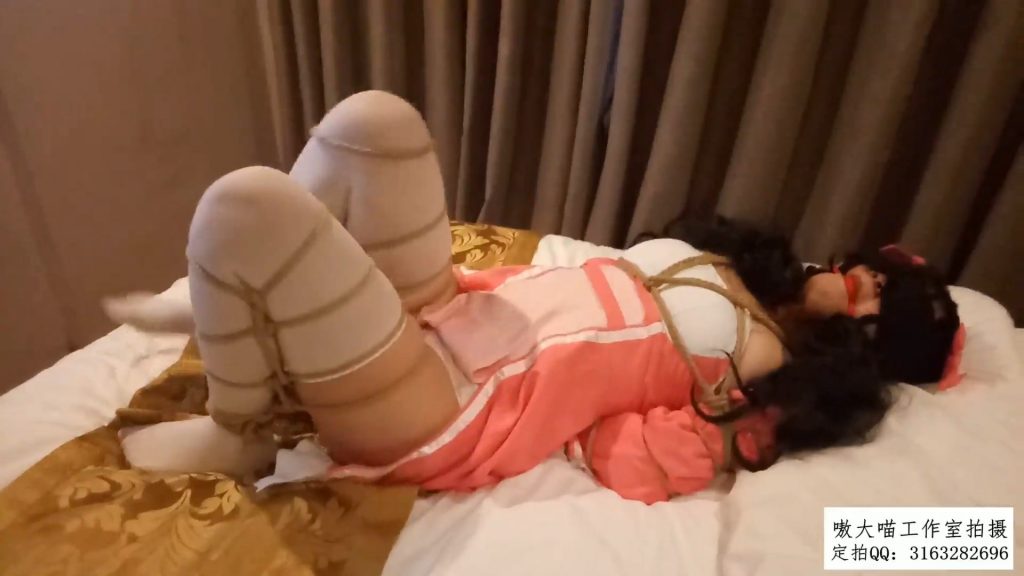 Auto translate from Chinese:
Sub-Ann is a city well-known of the escape magician
Whether the audience how the bundle of his
He can easily escape
The small Mo is to his fans has been inspirational to become one like he did the female magic escape artist
But the sub-Ann never received apprentice, she also can only think about
Until one day she found the upstairs of the new move to one of the neighbors turned out is her idol
Magic escape artist sub-Ann
So the next night she dressed very beautiful magicians assistant clothes or leather)
(Taobao or free fish search Hatsune magician or Sony sub-magicians can
Little Mo in the doorway quietly come up with the items just what can be done. open. the child safety of the home.
This time the sub-Ann taking a bath
Sub-Ann not found
Little Mo came to the bedroom found on the table in full is rope scarves chains, etc. bundle of people.
To escape surgery is very obsessed with her natural can't wait to pick up the run, looking to find a OK body.
Suddenly the neck is a mind knife in hand hit dizzy in the past.
Then open your eyes and she found herself to be tied up, sub-Ann is sitting across from her
Sub-Ann: let's say that you are how to open the door to come in is not the landlord give you the keys?
Little Mo:
Of course not I was to open his own door. (Malloy argued.)
Sub-Ann disapproval: Oh, just searched, on you found the door tool.
Little Mo blush was struggling to know:you this guy how can you search someone's body.
Sub-Ann: huh, you little thief dare to steal from me I also can not search body searches? – Ann pinching her chin aggressive.
Mo:people are not thieves and people like you are the magician because favorite escape technique so I come to you who knows you are a pervert! Hum。
Sub-Ann:come on in! The magician's will slip door lock picking? Then tell the thief what's the difference?
Little Mo: I'm curious. is because often the research unlocking what to learn lock picking!
Sub-Ann: Oh? What to learn magic?
Little Mo nodded
Sub-Ann:okay, since you said you also studied the escape technique, then I'll give you half an hour time if you are able to break free, I can consider to teach you two strokes
Little Mo: huh! Don't look down upon people! I break free for you to see!
Sub-Ann turned to leave
Lenses give small Mo desperately struggling
Struggling for a little while and then
The small Mo wrist rope and finally a little loose and finally struggling to open
Little Mo proud look at sub-Ann:what about this lady making open now your letter.
Sub-Ann is a bit unexpected:yo little girl also really good. I didn't know you really good but escape the magician's training is not so easy every day to be tied up is the order of the day and in order to show the effect of training time comparable performances, bale was also needful you this ago can?
Little Mo:do not underestimate people do not believe you then tie me up with your most severe kind of tied to the law I'll escape to you.
Sub-Ann, just the fact bale was not particularly tight, but this time he wanted to make this little girl quit
Sub-Ann: okay! I'd like to see you this little girl to have much skill!
Little Mo completely didn't realize that this is bound to give there will be more tight instead of a face proud of it!
Sub-Ann to pick up the rope first to tied up。 Side tie side and said: this time I'm still tying loose point, you first adaptation adaptation.
Little Mo: well tight it's okay.
Bundle of little Mo tried simply perfect bound themselves very difficult to break free
But also try to be brave got to fooling
Sub-Ann put her five spend travelling horse bundle good
Small Mo although the pain was not, but still endured.
Sub-Ann to tell it, let the little Mo in the home of your own struggle, broke free just charge her as a disciple, just throw her in the home.
Then give her to wear mouth ball blindfolded. Went away
Then the little Mo struggle groaned turning over of the wrist struggling
Fifteen minutes after the
Sub-Ann back, see the small Mo break free not open, it's uncomfortable, it relented to help her unravel a ball and a blindfold, and a small collection of Mo as an apprentice.
Sub-Ann smiled: silly girl. although you do not have to break free, but also quite a bit of talent so you can consider take you on as an apprentice and then air teach you a trick or two up! Just after will be even more hard-Oh
Small Mo surprise: really?
Sub-Ann: really! I'll help you untie first…
File name: Meow17.mp4
File size: 633 MB
Duration: 00:41:22
Video: MPEG4 Video (H264) 1920×1080 30fps 2006kbps
Audio: AAC 44100Hz stereo 126kbps
---
Download: