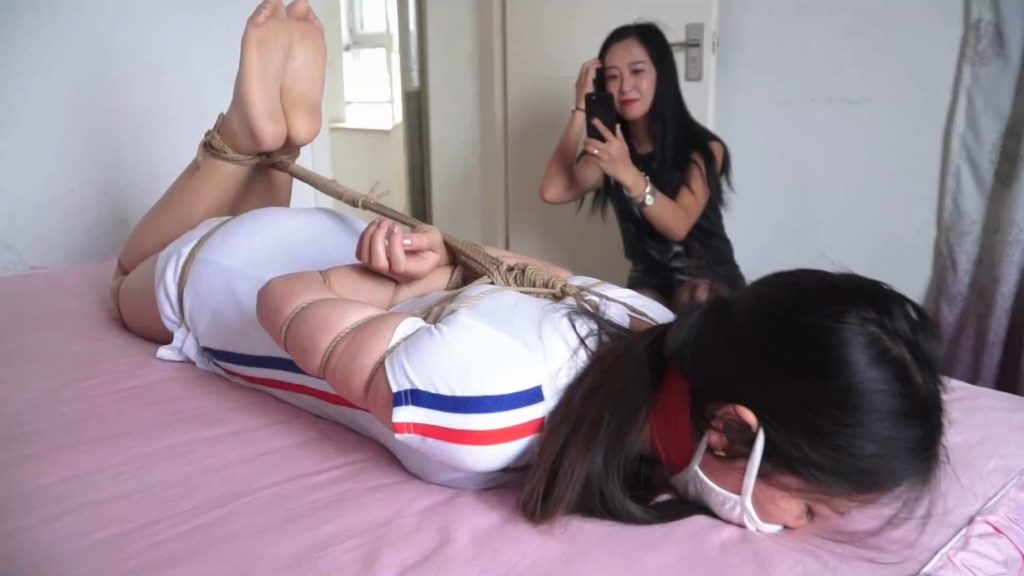 Plot: Du Yang is a company female white-collar workers, the weekend, Du Yang dressed in white and bright stockings, finished ponytail, according to the mirror, ready to go shopping.
Du Yang put on white shoes, walking in front of the sofa a few steps, pleased to himself: "What to buy today is good?"
There was a knock on the door at this time, and Du Yang was a little unhappy. He said: "Who is this?" A man outside the house said: "Property is in a hurry."
Du Yang impatiently walked and said: "come here, really annoying."
Du Yang opened the door and did not expect a middle-aged woman (Wenqing) wearing a black leather jacket, black stockings, stockings and high heels rushed in to grab her neck, followed by a fat man wearing a glasses bag.
Wen Qing Du Yang pushed fat glasses quickly shut Du Yang's door. Duanyan fat man covered his mouth, grabbed Du Yang arm control her. Du Yang desperately struggling, but no avail, only humming boredom.
After controlling Du Yang, Wen Qing said to the fat man: "Cousin, saw it, this Xiao Nizi is taller than both of us. I suffer from loss I call you, otherwise I could not get her alone." Fat (Wen Qing cousin) said: "That's right!"
Duanyang sandwiched Duanyang go there.
Wen Qing smiled and said Du Yang was Wuzui mouth: "I did not expect it, you have today, plagiarism of my ideas, but also in front of the boss said me the bad things harm me eventually expelled by the company. My cousin and I have been tracking you for a week , Finally found a chance to start today, how can I take care of you well! "(The original text before the Qing and Du Yang is a company, and later Du Yang plagiarism design, also looking for opportunities to squeeze out she was driven out of the company, today, Wen is to retaliate Du Yang body flutter want to resist. Wen Qing said: "Do not move!"
Fat man said: "cousin, take a look at the package," temporarily loosen Wuzui's hand, Du Yang shouted: "Let me go", and then was Wuzui control.
Wen Qing pull the bag, which installed a rope, tape, bandages and other binding tools. Wen Qing took out a bundle of ropes and said to Du Yang: "If you apologize to me sincerely, maybe I can be gentle with you."
Fat man to open the mouth covered his mouth, Du Yang angrily Wen Qing said: "You are a crime, quickly put me!"
Wen Qing said: "Well, pretty hard mouth, see how I pack you!" Wen Qing took out a bag from the bag, with fat cousin to Du Yang to wear. Du Yang whining painfully.
Man clear handed the rope to the fat cousin, said: "Come, she tied." Du Yang down by the fat press, forcing her to kneel, Wen Qing grasp her hands, the two work together to Duanyuhuahua tied rope into the meat. During the Du Yang desperate resistance against shaking body, Wen Qing said: "Honest point!"
Du Yang fat man bundle, Wen-Qing Du Yang package turned over to identify Du Yang's cell phone and a bank card. Wen Qing holding Duankang bank card, said: "You plagiarism of my ideas, but also hurt me lost his job, how do you say I should compensate me, so you tell me your bank card password, I let you go.
Du Yang angry, shaking his head refused, desperate struggle.
Wen Qing from the bag out of a blue underwear, Du Yang said: "This is my underwear, so you have a good smell." Wen Qing took panties in front of Du Yang shook, Du Yang desperately dodge, but was Fat catch. Wen Qing took panties in Du Yang head, Du Yang painful struggle. Wenqing proudly said: "What about the taste ah?"
After some torture, Du Yang rapid breathing. Wen Qing said: "Do you want to know now?" Du Yang nodded in submission. Wen Qing removed his head panties, unlock the ball, Du Yang swallowed, gasped.
Duyen told Wen Qing password (256778), said: "The password has been told you, you put me." Fat immediately covered Du Yang's mouth and said: "put you?" Wen Qing said with a smile: "This is by no means you."
Wen Qing purse out from the bag a little wrinkled white cotton socks, Du Yang said: "This is my socks for a few days to wear, have not washed it, let you taste and taste."
Fat pinch Du Yang's nose, Wen Qing grabbed Du Yang's mouth, forced DU Yang mouth big, Wen Qing cotton socks, only one into DU Yang's mouth, while the edge of a smile and said: "how, taste good Right. "
Cotton socks completely stuffed Du Yang's mouth, Wen Qing took out a roll of black tape from the bag, sealed along the outside of Du Yang mouth a few laps, the seal is tight. When it was done, Wen Qing gave Du Yang a blue pantyhose, making her feel even more painful and humiliating.
Wen Qing and fat man Du Yang sat on the couch, Du Yang would like to use his legs to kick clear. Wen Qing angry: "dare to kick me?" To the fat man said: "put her legs tied me up!"
Wen Qing took the rope to the fat, the fat man took off the white shoes on the feet of Du Yang, took the ropes and put together the long legs of Du Yang, and tied her ankles and legs tightly. Du Yang is still moving, Wenqing proudly said: "See you can go where to go!"
Wen Qing Du Yang's bank card to the fat cousin, said: "cousin, you go to the bank near the district to see the password right, if you look at how much money in her card, first do not take, I am here watching her "
Fat: "Well, I'll be back later." (Push the door to go out)
Was pantyhose socks mouth mouth, hands and feet bundled Du Yang painfully struggling to sit on the sofa. Wen Qing sat next to DU Yang, dug out of the DU Yang bag just used to dress up a small mirror.
Wen Qing took a small mirror according to Du Yang, said to her: "to take a look at you to see the United States is not beautiful? Pretty!" Du Yang reflected in the mirror painful expression. Man smiled proudly.
Wen Qing picked up Duanyong's cell phone, to Du Yang took a few photos, threatening her, said: "If you dare to call the police, I'll send you these photos to the Internet." Du Yang hear more angry shaking big legs struggle.
After some time, Du Yang struggled tired, Wen Qing and she sat side by side on the sofa.
Fat cousin back, happy to Wen Qing said: "The password is correct, her card money quite a lot, cousin, let's get rich!"
Wen smiled and said to Du Yang: "I can not think of you pretty decent, then let you be comfortable."
Du Yang kneeling in front of the sofa so fat, Wen Qing remove Du Yang head of the underwear, tear open the mouth tape, take out Duanyan white cotton socks. Mouth can be liberated, Du Yang big mouth gasping.
Du Yang begged to Wen Qing begging Rao said: "Sister, I was wrong, let me go, I promise not to alarm."
Wen Qing said angrily: "Yo, you dare to mention the police!" Fat quickly covered Du Yang's mouth, Wen Qing said: "cousin, what should I do?"
Wen Qing wanted to say: "In this way, put her in the bedroom bed tied solid point, and then we pack up and leave." Du Yang shook his head desperately rejected.
Wen Qing pick up the rope to pick up the package, with fat cousin Hijack Duanyan hopped toward the bedroom.
Wen Qing and cousin hijack Du Yang into the bedroom.
Cousin covered Du Yang's mouth, two people sitting in the bedroom bed. Wen Qing opened the black bag, took out a bag of meat color from the inside stockings. Wen Qing smiled and said: "You do not love stockings? Since you have already given me an apology and gave me compensation, then I'll give you a pair of new stockings."
Man open the stockings silk stockings, Du Yang said: "But now you can not get it, I'll give you in your mouth. How, can you?"
Du Yang helplessly struggled, but still no use. Cousin pinch Du Yang's nose, Wen Qing pinch Du Yang's mouth forced her mouth Zhang large, a little bit of meat color even panties stuffed Du Yang's mouth, Du Yang's mouth was stuffed full, then Ceng Wenqing also hand over his hand.
Wen Qing took out the black tape and a roll of red self-adhesive bandage from his bag and said to his cousin, "Come, let's seal her mouth tightly." The two matched and sealed a few laps with vinyl tape, Outside the tape around a few times, Du Yang after the end only woohoo bored.
Wen Qing looked at Du Yang, thought for a moment, and said to his cousin, "Give her a mask and cancel the silence." Cousin: "Good." The two took out a white mask from the black bag and gave Du Young put on.
Wen Qing was very satisfied with his cousin and said, "I'll go packing up and you'll tie her firmly."
Cousin took the rope, reinforced Du Yang's bundle, but also put her into a concerted effort, Du Yang now lying on the bed helplessly shaking the body struggling.
Cousin bundle good Du Yang, Chong door outside said: "cousin, tied up, finished."
Wen Qing came in and said: "Yo, not bad." Happy to hold Du Yang's phone to Du Yang photo, which makes Du Yang even more depressed and humiliation.
On the one hand, Wen Qing said to Du Yang: "Good sister, you are more beautiful than just now, and my sister is leaving, and you will enjoy it." Du Yang, shaking his head after hearing the report, expressed his anger and protest but was helpless.
Cousin packed things, then clear at the door to Du Yang, said: "I'm gone, good sister, you enjoy it, bye!" Du Yang desperately humming pain painful struggle.
Wen Qing and cousin elated to pack up good things, pushed the door to go to withdraw money.
Du Yang struggled for some time, slowly calm down to grab the knot.
Fortunately, the binding is not the knot, and finally get loose knot, a little bit to unlock the body, the process of solving the rope is very hard.
Finally broke free, Du Yang removed the mask, pulled out his mouth has been moist, flesh-colored stockings, rip off the bandages and tape on the neck, mouth gasping.
The body is full of ropes tied rope, a good end of the weekend, so ruined.
Du Yang slowly under the ground, ready to go to the police, a long time to bundle her weak, sitting in the living room sofa to take a break. "No, I have to call the police," she thought.
Although the police were called, however, Du Yang plagiarism and creative things quickly spread in the company, she also evil retribution expelled by the company, it seems that the heart should not have ah!
File name: XiY50.mp4
File size: 1,97 GB
Duration: 01:00:21
Video: MPEG4 Video (H264) 1920×1080 25fps 4426kbps
Audio: AAC 44100Hz stereo 256kbps
---
Download: