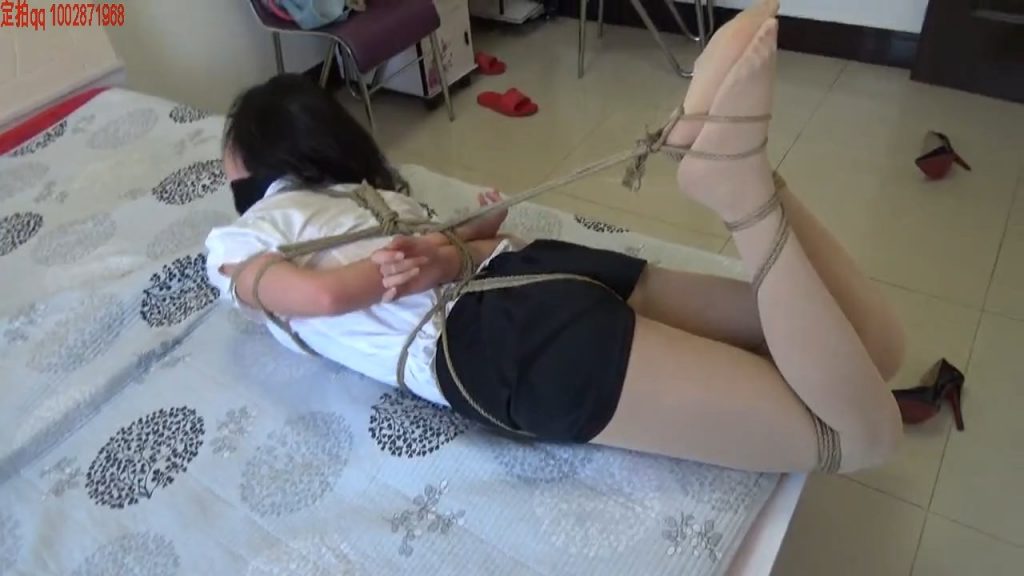 A girl who likes to play a bundled game at home, had an appointment to play with a friend she didn't know online. As a result, she was a thief, and the girl mistakenly thought that she was a good friend. The thief tied her hand according to the girl's request. Only after the upper body was exposed, the girl was struggling to useless and was completely tied up in a helpless situation. The thief reinforced the girl and tied it up. Since she did not steal valuable items, she decided to take the girl and sell it to the trafficker to leave
(1) In the room: The girl put on her favorite dress (with a uniform skirt, a pair of pork pantyhose, a pair of high heels), and she pulled out a few bundles of ropes from the cabinet. Put it on the bed, and talk to yourself and wait for a friend who hasn't seen you. Decompression password "a deep love rope"
(B) at the entrance: the thief, that no one at home, do tricks, the girl heard the sound in the house, so he opened the door to the door, surprised to find a handsome thieves, so mistaken for a good friend, he invited him to enter the door, the thief will be wrong Into the door, casually responded to a few words.
(3) In the room: The girl casually said a few words of politeness and asked to start the game and asked the thief to bind her whole body. When the thieves were all tied up, they sneered and said that they were the truth of the thief. The girl panicked and struggled. While preparing and preparing for help, the thief used black stockings to tie his mouth and mouth and tied his legs and feet.
(d) The girl struggled in bed and the thief left temporarily, searching for property. . . . [some groups of shots that the model faces at the time, such as mouth, chest, legs, or feet, are not less than ten minutes.]
(5) The girl struggled for a while and was unable to break free. She decided to use a mobile phone to call for help. However, she had forgotten the bathroom before the phone, and the girl struggled to move to the bathroom.
(6) After struggling, the girl lost her high heels, and finally found her mobile phone in the bathroom for help. Then the thief came back to find it. He immediately ran over to stop and began checking the girl's body and tied the loose rope and asked the girl. Where the money was hidden, the girl said that she was just an ordinary student. After she was not worthy of money, the thieves couldn't be reconciled. Then she decided, "If you are beautiful and tied up, the beauty you sent to your mouth should be worth a good price! Let's be a real maid, hahaha!" The girl's instinctive struggle began, and she intended to call for help. The thief quickly grabbed the girl's mouth and once again covered her mouth with stockings, and finally tied the girl with a rope to form a squat. The thief picked up the struggling girl and left…
File name: LF103.mp4
File size: 345 MB
Duration: 00:28:31
Video: MPEG4 Video (H264) 1280×720 30fps 1550kbps
Audio: AAC 44100Hz stereo 140kbps
---
Download: