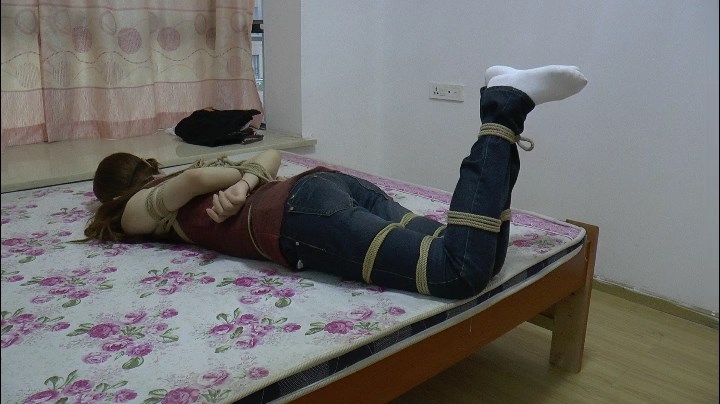 Zhang Yuli was trapped in the old black trap of the pyramid scheme because she was greedy for a small price. She was squatting but ready to escape. When she found out, she tied Zhang Yuli with a rope. After the old black, she started the story.
The old black took off Julie's shoes, revealing the white short cotton socks, and tied the 玟莉 tightly with a rope (tied method: upper body Japanese style, lower body ankle, calf, thigh, knees are tied, but also the butt Also tied (forgot how to describe it, but I guess you will understand), stockings begging (stockings do not flow too much outside the mouth, affecting the appearance), blindfolded), the old black left, Julie desperately struggling
Three days later, the old black came back, and Julie was exhausted. She didn't understand when she was lying. She took down the stockings in her mouth and said, if you want to stay, I will give you the solution and then ask you to eat something. . Julie nodded. The old black touched Julie's face, revealing a wretched smile, untied the stockings on her eyes, and untied the rope on Julie's body. I gave Jun Li something to eat.
After Julie regained her freedom, she participated in various brainwashing courses as required, but still could not stop the deep-rooted socialist thoughts in Julie's head. So, Julie decided to escape.
However, the pyramid schemes still did not completely relax the alert. After the end of the day's course, the old black always licked his hands and feet and fixed them with a collar.
On a certain day, the pyramid schemes are brainwashing education on Julie, who is being handcuffed.
After the end of the day's brainwashing course, the old black used the shackles to hold Julie and took it to the room to rest.
Julie lied that she was going to the toilet, and she was helpless. She could only open Julie's handcuffs and let Julie go to the toilet alone.
A few days of education has made Lao Hei relax with jealousy.
So, Julie started the plan to escape.
When the old black suddenly found that Julie had disappeared, she immediately opened the door to look for it. Julie, who was found on the stairway, took Julie back.
File name: MeiShu48.mp4
File size: 522 MB
Duration: 00:23:18
Video: MPEG4 Video (H264) 720×404 25fps 3000kbps
Audio: AAC 48000Hz stereo 128kbps
---
Download: