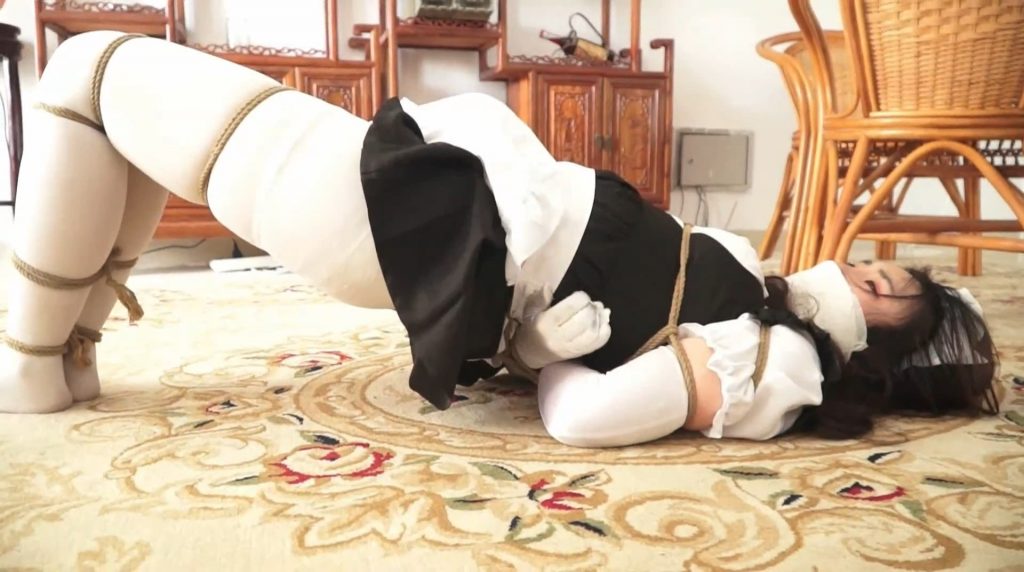 A beautiful woman in a cheongsam came to a psychiatrist clinic with a bag and greeted each other. The beauty began to talk about her condition.
The beauty said: "I have encountered a kidnapping case before. Although I was successfully rescued, my spirit has been very bad, but I have suffered from severe insomnia. I have not slept well for a long time."
The psychiatrist asked her to lie on the sofa. The doctor said that he would let hypnotherapy treat her. He made some gestures and made a snap, and the beauty fell asleep.
The beauty dreams that she is dressed as a maid, she is very happy.
The beauty said, "I can't wear this dress. I finally started dreaming. It's great."
Just when the beauty was happy, a man appeared.
The man said very rudely, "You maid is lazy again? Hurry and work for me!"
The beautiful woman listened very angry and said, "Who do you think you are? Why do I listen to you?"
The beautiful girl punched the man with an angry punch, but when she hit the man, she suddenly couldn't move as if she had been fixed.
The beautiful woman said nervously, "This…what is the situation, why can't I move."
The man said, "I am your master. You can't hurt me as a servant, but you dare to resist. It seems that you should punish you well."
The man hit a ring and the beauty was suddenly tied up by a simple gag.
The man touched the beauty, and the beautiful woman was angry and could not stop it. Play enough, the man said something left, the man left, the beauty immediately began to struggle
The beauty carefully looked at the restraint, but fortunately, only the wrist, the strands, the ankles were tied with ropes, or it was very simple restraint.
Beauty inside monologue "Fortunately, this rope is not tightly tied, I should struggle to solve it!"
After a series of struggles, when the rope was quickly broken off, suddenly the restraint of the rope increased, and the knees of the white silk legs were tied up and down, and the breasts of the upper body also increased the rope binding.
The beauty is angry and dying. How is this restraint becoming more and more strict? It is even harder to break free.
Just when the beauty hasn't slowed down, the restraint is more ruthless. The whole six ropes completely bind the beautiful legs of the stockings, and they are all inseparable. Even the white silk feet are tied together, the upper body is even more A rope was attached to the neck.
The beauty struggles with her life, but with this exaggerated tight binding, she can't do anything but a bird worm on the ground.
Beauty insider monologue "What is this nightmare, why the more I struggle, the more tightly I bind, the body must be tied up with ropes, so I can't escape, I am mad at me!"
File name: XiY119.mp4
File size: 770 MB
Duration: 00:21:53
Video: MPEG4 Video (H264) 1920×1072 24fps 4800kbps
Audio: AAC 44100Hz stereo 115kbps
---
Download: