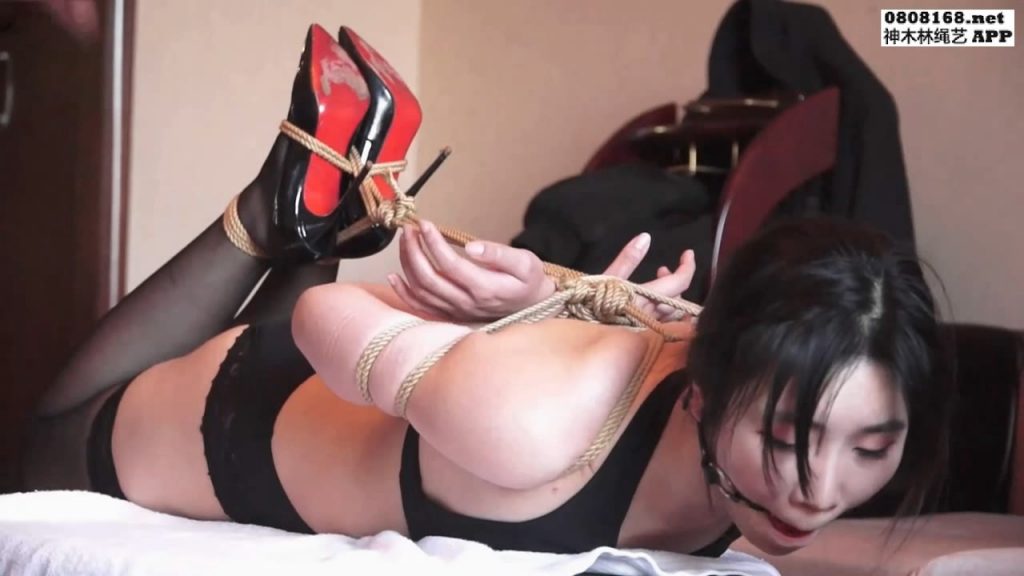 Hey, hey, at a door of a hotel, Wang Li rang the doorbell. After a few seconds, the room door opened and a fat man with sunglasses stretched out.
The head asked, "You are Wang Li?" Wang Li said: "Yeah, you are Adong." "Come, come, come in quickly," said Adong's fat man to let Wang Li into the house.
Adong led Wang Li into the house, let him sit on the sofa, took a bottle of mineral water from the water platform and handed it to Wang Li: "You are early enough." Wang Li revealed.
A rare smile: "Isn't it a big photo of Dongge's bundled photos. It's very exciting. Your bundle of hands is good-looking and tight. It's really exciting."
The fat man named Adong laughed: "Your is also very good." Wang Li said: I am not good at binding. Usually I use leather or metal.
But I still like the rope very much, right, Dong Ge's M is still not awake? Adong looked at Wang Li and said, I tied him when you called. You
come and see.
When I walked to the closet of the hotel, I opened the door of the closet, and there was a woman bound by the Guanyin Guanyin. Wang Li stretched his head and looked at the woman.
The whole body was tightly bound, and the protruding tongue was pinched. When the cabinet door was opened, she looked up at Adong and Wang Li. The beautiful face is also constrained like this.
Wang Li looked inside, greedily swallowed and swallowed, said, Adong, you are really blessed, can find such a beautiful M, can also be so tightly bound, I really
It's too envious of you," said Adong, she called Yu Yu. It's not normal to tie her up. We don't have this.
Do you like it!
As he spoke, he took the rope hanging from the closet, pulled the M out, grabbed M's hair, and forced her to walk into the living room. Wang Li sat back on the sofa.
Adong stroked the head of M next to him and sat opposite. The two talked about some things in the circle.
Adong saw Wang Li always looking at the squatting M. He smiled and said to M: Go, go to my brother, and M obediently walked to the front of Wang Li.
Wang Li looked at him. "You give her a way to practice and practice." Adong said, "Okay, then I will try," said the hand and began to loosen the M. Wang Li used rope
When the child is tied, it is always not good. It is said to Adong: You still come, change your posture, I can only use metal, I look at your binding is also a pleasure. Say
Handing the rope to Adong, Adong began to bundle the rain, and said to the side of the bundle, call your M, and play together.
Wang Li replied, yelling at me, always looking at you, M is good, forgot to find something, said to call out: Xiao Yan, it is often used for those tools.
On, come to Room 666 of Phoenix Hotel, wear some sexy, let my newly-acquainted brothers bundle you well. Hanging up the phone: I can't use her for an hour.
It will come, come, and bundle her to teach me. Adong haha ​​laughed, "No problem, I like to bundle different types of M." After a while, the rain will be high behind
Hanging up the hands, "Come on, go to the coffee table," Adong said, the rain, the smooth rain on the coffee table was tied by Adong, and it was kicked.
What kind of brother, have you learned? Wang Li looked at the bundled rain, and shook his head sadly, saying, hey, if you don't practice, you can't learn, Dong Gejin
I went to live there, and taught me by the way, let's drink too, Adong said, that's fine. Wang Li, there is still something. In fact, I prefer to kidnap.
Can you play M? Wang Li said, how to kidnap? Adong said, "This way, after you come in, I hide behind the door, how can I directly kidnap and let her fear?"
This is a good idea. Just like this, I will hide it for a while. I said that I'm holding the rainy ass and said that the bundle is really beautiful. Come, let me take a photo and commemorate it. He holds
The mobile phone, starting from all directions, Adong also used the camera, the two were shooting crazy, the doorbell rang, Wang Li snorted with his hand, small
The voice said, come, you are ready to kidnap, saying that he went to the back room and left a seam. Adong took a towel and sneaked to the door and unscrewed the door.
Wang Li's M Xiaoyan opened the door and walked in. He didn't close the door. He didn't see Adong behind the door. "Li Ge," she shouted, but the first thing she saw was
Hu Maqi kicked the M on the coffee table, subconsciously grabbed his mouth with his hand. At the time, Adong met the door at the back, and Xiaoxiao looked back, not
Wang Li, screamed.
Adong hurried forward, grabbed a small shackle, and the towel slammed on Xiaoyan's face. Xiaoyan struggled desperately, lifted his legs hard, and kicked off the high heels.
There was a pair of eyes in the crack of the door, and Wang Li looked at his M's struggle.
Adong said to Xiaoyan, let's be honest, or you will look good. Xiaoyan's fear of nodding, Adong let go of Xiaoyan's mouth, pressed her to the ground, and twisted her hands.
Asked, "Want to know where you are going?" Xiaoyan nodded in fear. "He has already cleaned up for me. If you are not honest, you will end up like him and hear no.
There is a "small scorpion fear to the extreme, fear of incoherence, don't kill me, let me do anything, Adong sneer, will not kill you, bundle you."
After saying that I took off my little coat, I came to Xiaoxiao and got a big tie, and tied it into a sea old Fu, then shouted at the back room, come out, don't scare her.
Haha. Wang Li came out, Xiao Yan looked up and saw Wang Li, and called out "Master, you are fine, your head suddenly softened."
(to be continued)
File name: XiY142.mp4
File size: 919 MB
Duration: 00:31:08
Video: MPEG4 Video 1280×720 29.97fps 3995kbps
Audio: AAC 48000Hz stereo 127kbps
---
Download: