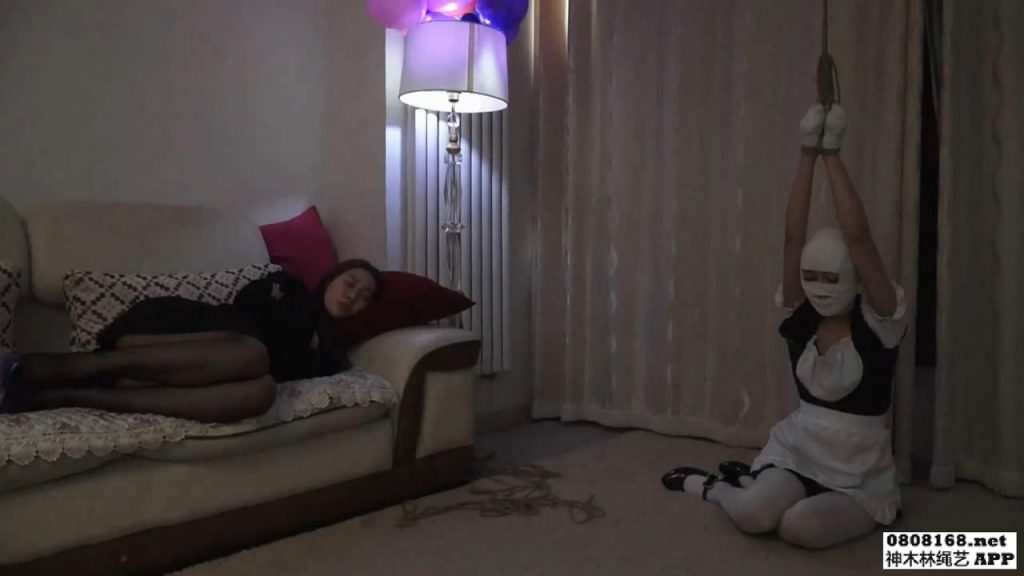 Came to Zhang Meng's home, Xu Qing was re-bundled by Zhang Meng and sat on the sofa.
"I told you, you are in the place where I live now, as you are now, I am killing you, no one knows, so you better be obedient."
"呜呜呜呜呜"
"I don't want to accept it, have you look good"
When she said that Zhang Meng gave Xu Qing a slap in the face, she was staring at Venus.
"obeying"
"Hey." Xu Qing cried and nodded.
"That's good, I will give you your hands and feet. You are honest. There is a set of clothes here and you can quickly change them."
Xu Qingyi is a set of legendary maid suits, shirts, white silks and shoes. How can I dare not do it now? This crazy woman can't really kill herself.
Only take the first step and take one step.
So Xu Qing changed clothes according to Zhang Meng, although the hands and feet were untied, but the bondage of the mouth was still there.
After the change, Zhang Meng tied Xu Qing's legs into a small broken step mode to prevent escape. Hand, Zhang Meng used a bandage to pack two fists. Zhang Meng used Xu Qing again
The bandage brought there wrapped Xu Qing's entire head, leaving only the eyes and the breathing nose.
"I tell you, you will be my private maid in the future, waiting for me here. You don't have to think about escaping, basically impossible. If you are obedient, you can't guarantee my heart.
If you are in love, let go of you. If you don't obey, I will kill you and give you a corpse."
"The last time your cousin did to me, you are now giving him a debt."
"呜呜呜呜", Xu Qing listened to his head and shook his head to protest.
In the blink of an eye, Xu Qing has been waiting for Zhang Meng every day.
In addition to eating, other times I was so imprisoned. Zhang Meng is also very smart, and Xu Qing's care is very strict.
Lao Chen has been using various means to find his cousin recently. He always feels that his cousin's disappearance is problematic. But suffering from no trace.
On this day, Zhang Meng has nothing to do, and Xu Qing is doing housework.
Zhang Meng saw Xu Qing's cell phone thrown on the side, so she used it to play. It didn't matter.
Lao Chen's friend positioned the cousin's mobile phone and immediately received the information.
Therefore, Lao Chen rushed to follow the positioning information, the positioning information can only be located in the general position, but not precise, Lao Chen called the police one household
Find.
Hey, someone knocked at the door and Zhang Meng got up quickly.
"You give me a house, don't call you, don't let out, and Xu Qing, who is bound at this time, reluctantly walks into the inner room."
Zhang Meng is also doing bad things in peacetime. She is afraid of being retaliated and the police come to the door. So she puts on her mask and puts it on before she opens the door.
"Hello, may I have a stranger staying at home recently?"
"No no"
"sorry for disturbance"
Lao Chen is a bit skeptical about this household, but can't say it clearly, only secretly write down.
Zhang Meng decided to sit on the sofa after he left. The shock was undecided. She recognized that the coming person was Lao Chen, but she was fortunate enough to wear a mask to disguise.
"No, I can't stay here. I have to change places."
"Little JR, come out" This is the "love name" for Xu Qing.
Xu Qing slowly moved the leg that was tied and walked out.
The old lady is out of the door, you are honest here, someone is coming, no voice is allowed, no door is allowed, I will come back soon.
"呜呜呜", Xu Qing nodded and promised.
Zhang Meng quickly dressed, did not forget to wear a mask, took the bag and went out.
Xu Qing looked at his own hands that were wrapped into fists, and he was anxious and hated. How can he escape? The hand can not solve the rope and can not open the door.
Shortly after Zhang Meng left, Lao Chen returned to the door of Zhang Meng's house. Intuition tells that there must be problems here.
Hey. . . . .
Someone knocked at the door. Xu Qing is overjoyed.
"Oh." But how can he open the door at the moment, and what if the mad woman tries to test herself.
At this time, Xu Qing heard the familiar voice.
"Someone, property"
It is the voice of my cousin, my cousin.
Xu Qing yelled and screamed at the door while using the wrapped hand.
Lao Chen vaguely heard the sound and there was a problem. Take out a master key and try to open the door. I have to know that Lao Chen's background in the past is also disgraceful.
This kind of small problem is hard to beat him.
When the door opened, Xu Qing saw her cousin crying and rushed over, which shocked Chen.
(to be continued)
File name: XiY181.mp4
File size: 702 MB
Duration: 00:23:46
Video: MPEG4 Video 1280×720 29.97fps 4000kbps
Audio: AAC 48000Hz stereo 127kbps
---
Download: