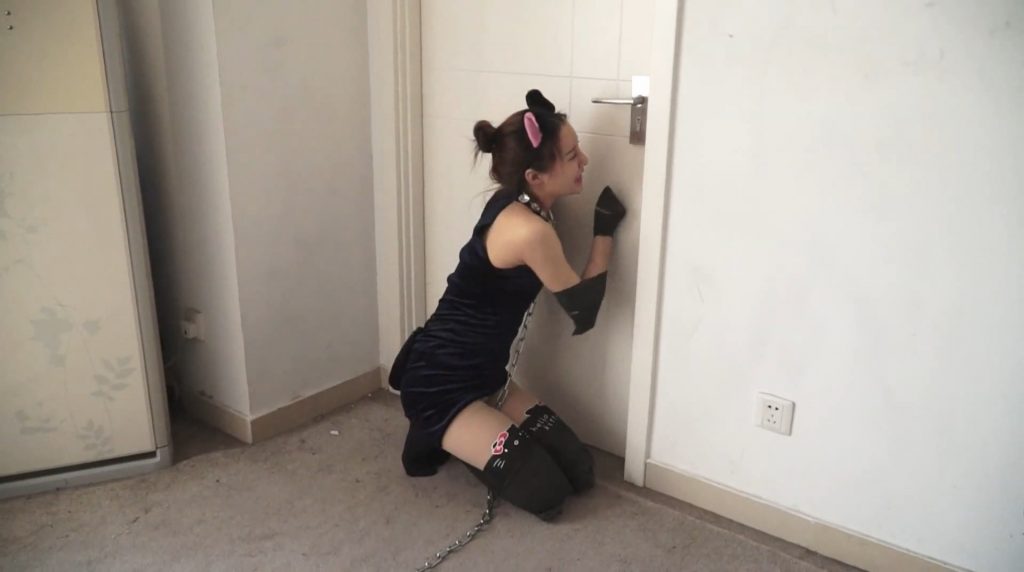 A year later, the man has begun to train the beauty, the man took her collar around the circle, the mid-way beauty also resisted not wanting to go, was slashed by the man in the body, the beauty was punished, only obedient. After a few laps, the man rolled the beautiful woman and stood still. After the training, the man is pouring out the milk in the bowl, tearing her gag, putting it on the ground for the beautiful woman to drink, and the beauty is forced to drink at the beginning. Beauty can only be honestly licking milk. I finally finished drinking the milk, but the face of the beautiful woman is all milk, pitiful.
The man scratched the head of the beautiful woman and said, "It's been a year. Since you are so obedient, why don't you call my master?")
(Beauty says "Never. You are a madman who is transforming my body. Even if my body succumbs, I will miss my spirit and give in.")
(The man said, "Then don't blame me. I gave you the opportunity to perform the final stage.")
The man took out a special machine and then pressed it against the beautiful woman's throat. The beauty first coughed, and then the beauty could only scream. Can't talk properly.
The beautiful woman is angry and wants to swear, but what she says is the voice of sly. The beauty of the hysterical struggle, she kept touching her throat, but it was useless, she could only scream.
Once again, people and beautiful women went to pick up toys. I didn't expect that the beauty herself started to use the tongue to lick the toy, and she played with the toy. It seems that the machine changed not only the beauty of the voice but also her spirit.
Finally, the man tied her feet with tape, and then the man said that he went to sleep, so you don't worry that you can run away at night, and then go to the bedroom alone.
After the man left, the beautiful woman screamed, struggling, crawling around the room, writing, and finally the beautiful woman shed tears in pain, it seems that she did the wrong thing, but she did not expect that retribution actually took herself. Becoming someone else's pet~~喵喵喵~~ Beauty painful mourning, but no one can understand what she said. . .
File name: XiY201.mp4
File size: 779 MB
Duration: 00:21:26
Video: MPEG4 Video (H264) 1920×1072 24fps 4961kbps
Audio: AAC 44100Hz stereo 117kbps
---
Download: