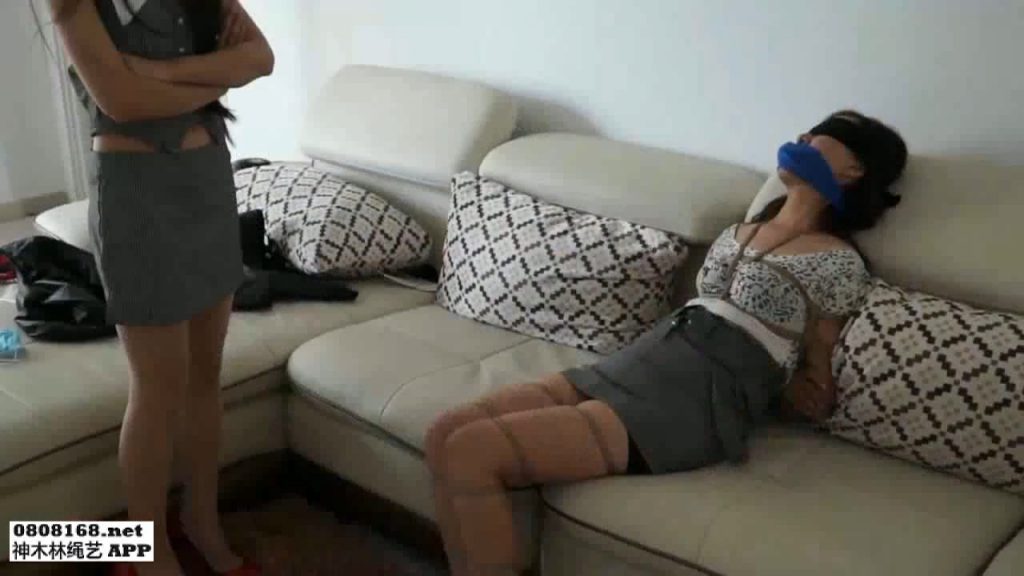 As time went by, Xia Lei's control over Cao Na became more and more sloppy, her eyes were not blind, and her mouth was only
It is stuffed into the cloth group, and the outside of the mouth is not covered with cloth, tape is sealed or covered with a wide cloth.
One day, Xia Lei was in a hurry because of an emergency. She just stuffed a cloth into the mouth of Cao Na's mouth, Busside.
Very loose, did not block the mouth.
Cao Na was very happy in her heart and felt that this was an opportunity. When she waited for Xia Lei to go out, she immediately turned her head and she started.
After a moment of rubbing the cloth and the bed, she felt her neck twisted, but she could never give up.
Fortunately, soon after, she felt that the cloth group was loose in her mouth, although it was very subtle, but it was given after all.
She is confident. It was the willpower that kept her to the end, so that when the cloth group finally got out of the mouth, she
There is no more strength to sneak out.
After a while, Cao Na began to scream, "Help!"
At this moment, the door opened and Xia Lei came in. It turned out that she was in a hurry and forgot to bring an important thing.
Just went upstairs to take it, just happened to meet Cao Na cry out for help.
Xia Lei is furious, and her face is red (may be scared). She rushed to Cao Na, with her hand
Holding her mouth, the other hand picked up the cloth that Cao Na took out and forced it into Cao Na's mouth.
Xia Lei said with anger: "You dare to call for help, the old lady is not going to do things today, I have to punish well.
punish you! "
After Xia Lei finished, she went out to watch TV and let Cao Na toss herself in bed. After a while, Xia Leifa
It was quiet inside, and it was strange. She went to Cao Na and found that Cao Na's chest and breasts did not rise and fall.
It is.
"It was a very ups and downs," Xia Lei thought. "Is she dead?!"
Xia Lei is afraid. She quickly untied the layers of gauze, pulled off the stockings and found that Cao Na's breath was already very
weak.
Xia Lei quickly untied the blindfold cloth, tore off the sealing tape, untied the plugging ball, pulled out the plugging cloth, and Cao Na closed
With both eyes, there is almost no breathing.
Xia Lei thought: "There is no other way, only this way."
I saw Xia Lei gently squatting on Cao Na's body, took a breath, and contained it in her mouth, her head slowly descended.
Put her closed lips tightly on Caina's slightly open lips, and then spit the aroma in her mouth into Cao Na's
In the mouth, she was giving artificial respiration to Cao Na……
After a while, Cao Na gradually woke up, she only felt that two pieces of tenderness were tightly attached.
On her mouth, there was something lightly pressed on her body, and she smelled a scent. She blinked and saw
Xia Lei is kneeling on her body that is almost nude, and Xia Lei's cherry mouth is sticking to her mouth.
Cao Na's face was immediately red, and she did not think that Xia Lei would actually do something like this. Cao Na is ashamed and angry
Suddenly twisting his head, his mouth yelled: "What are you doing, you are perverted!"
Xia Lei sat on the bed and gently grabbed Cao Na's mouth, blushing and said: "Miss Beauty, don't quarrel,
You haven't breathed just now. I am doing artificial respiration for you. Don't misunderstand. "
Cao Na said: "Who told you to block my mouth so tightly, it is going to happen!"
Xia Lei gently touched the smooth face of Cao Na with her hand and said, "You are really charming, but fortunately I am
A woman, otherwise I have already told you that! "
Cao Naxin said: "Women can't be that?"
Cao Na found that Xia Lei stared at her and looked very strange, and there were some blush on Xia Lei's face. Cao Na
It was a veteran of love, and she understood a few points in her heart. Suddenly, Cao Na was born with a plan. "Lai, I am so much.
I didn't take a shower in the sky, my body smelled, can you loosen it and let me take a shower, then we will have a good time.
…, ok? "
Xia Lei did not think about it, she gave Cao Na loose. After freedom, Cao Na is active with both numb hands and doubles.
Feet, Xia Lei lying on the bed, urging: "You go soon!"
Cao Na turned and 趁 Xia Lei did not pay attention, picked up a down jacket to cover Xia Lei's head, and then rushed to her
On the body, she quickly twisted her hands to the back and tied them tightly with the rope that was originally tied to Cao Na. all of these
It happened so suddenly that when Xia Lei reacted, her hands were firmly tied.
Xia Lei was shocked: "Nama, what are you doing!"
Cao Na handed out a piece of tape and sealed Xia Lei's cherry mouth. Xia Lei can only be called "唔唔"
Cao Na smiled and said: "Now you are my slave. What I said just now is just to get away.
Don't believe it. I won't go to like a woman! I am not as perverted as you are. For these days q
Come to my sin, I have to punish you! "
After Cao Na finished, she picked up the phone book of Xia Lei next to the phone and called one of them, saying that summer
Lei rushed out and asked her to hurry up to Xia Lei's family. The man agreed.
Putting down the phone, Cao Na went to the front of Xia Lei who couldn't make any sound at all and couldn't see anything.
Close to her, said softly in her ear: "Xia Lei, someone will come to save you, don't worry! You
Is the first woman in my life who fell in love with me, and is still a beautiful woman, I will always remember you, but I
Never want to see you! "
After that, Cao Na went out to let the door lie, and then quickly walked away with a complicated mood…
File name: XiY253.mp4
File size: 487 MB
Duration: 00:21:50
Video: MPEG4 Video (H264) 1280×720 23.976fps 2996kbps
Audio: AAC 44100Hz stereo 125kbps
---
Download: