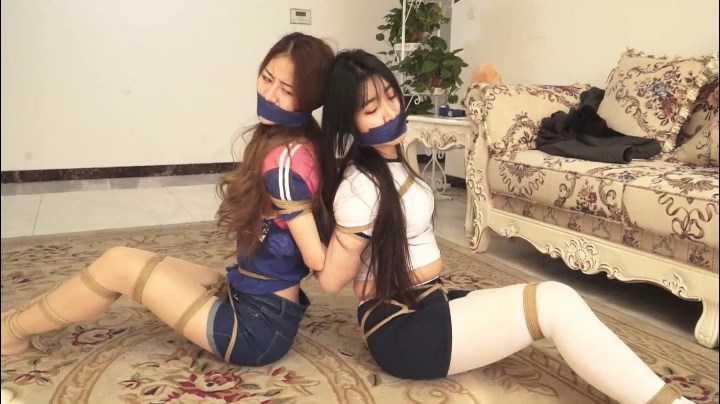 Wu Hao called: Wang Ge, that is what I said to you last time. We both arrived at home at about 12:30, and you will do it in the elevator. Wang Ge: Ok, I am professional, you can rest assured.
Scene 2:
Wu Hao is wearing a student costume. White stockings, high heels. Han Yi wears denim shorts, flesh-colored stockings, and canvas shoes.
After Wu Hao and Han Yi went shopping in the morning, they returned home. When they entered the community, a man followed and followed them to the elevator.
When the elevator reached the floor where their home was located, Wu Hao and Han Yi got off the elevator, and the man followed. After the elevator was closed, the man took out the gun and pointed at Wu Hao. Speaking of the police. Don't move, behind the hand. Speaking of holding the handcuffs and giving them a copy, then escorting them to the room, then searching for the keys from Wu Hao, opening the door and escorting them into the room.
After entering, Pharaoh said: You all believe in such a bad reason. Do you think I am like a policeman?
Wu Hao said: Who are you, this is breaking the law, let us go. Lao Wang said, shut up, my policeman is fake, do you want to try this gun is true or not? Wu Hao then did not speak.
Lao Wang untied Wu Hao's handcuffs and tied Wu Hao.
Then I tied Han Yi. Put the two beautiful women with tape and put on their mouths. I stuck it with a tape and left.
After the tie, Pharaoh began to play with Han Yi, and said that this girl is really energetic. He scratched his foot and touched her leg. After a while, the two sisters began to struggle fiercely. They wanted to cooperate with each other to unlock the rope. The two beautiful women wanted to use their mouths to unlock the other's mouth, and they wanted to unlock the other's rope. However, there was no such thing. What role. Soon, Han Yi was too tired and fell asleep.
Han Yi woke up and suddenly heard the voice of Wu Hao and Lao Wang. What happened?
File name: XiY283.mp4
File size: 784 MB
Duration: 00:21:22
Video: MPEG4 Video (H264) 720×404 25fps 4997kbps
Audio: AAC 48000Hz stereo 128kbps
---
Download: