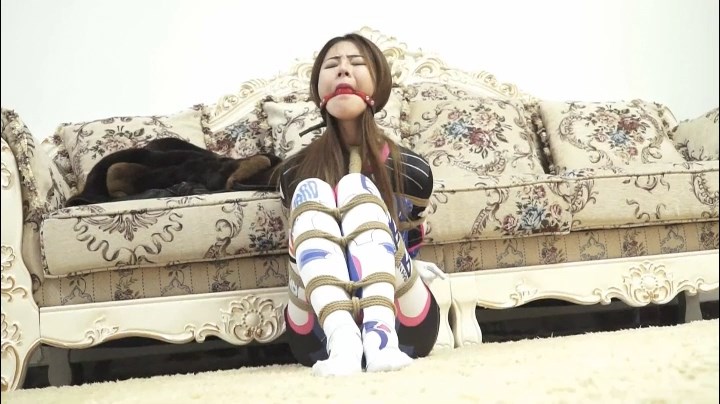 Huang Jie is a high school student in this city. Since her parents are abroad all the year round, she has been living alone in her own home.
She is also a cosplay lover. One day he put on the Cosplay clothes he just bought, and he is going to have a few beautiful selfies.
Suddenly, the doorbell rang. Huang Jie asked, who is it? The man said that it is your father's friend, your father asked me to bring something to you. Huang Jiexin thought it was true and opened them. After the man entered the door, he grabbed Huang Jie's mouth with his hand and, by the way, closed the door. Huang Jie began to resist, and the man pressed Huang Jie to the ground. Then start, bundle Huang Jie, Huang Jie is struggling properly.
The bundle is shown below:
Note: There are a few more bundles on the legs. Try to be as tight as possible. Put on the ball.
After the man bundled Huang Jie, he began to look for valuable things. Looking for a long time, the man shouted, really suffocating, such a big home, not even a fart. The man was very angry and went to Huang Jie's side. He took off his mouth and asked him where the money was. Huang Jie said that there was no money, and the man would scratch Huang Jie's foot. Huang Jie first endured for a while and found that he couldn't stand it. He said that there is a bank card with tens of thousands of dollars in the drawer. The man found the bank card and said that I am going to withdraw the money. I will tie you up first. If I come back and find that you lied to me, you will be finished.
After the man left, Huang Jie began to struggle wildly. But the bundling is too strong to struggle. After a while, Huang Jie was tired and fell asleep.
After the man came back, he looked at Huang Jie and said that I have already got the money, but I feel that you should be more valuable than the money. Huang Jie screamed out, and the man scratched Huang Jie's foot. Huang Jie struggled desperately.
File name: XiY319.mp4
File size: 901 MB
Duration: 00:30:29
Video: MPEG4 Video (H264) 720×404 25fps 4001kbps
Audio: AAC 48000Hz stereo 128kbps
---
Download: