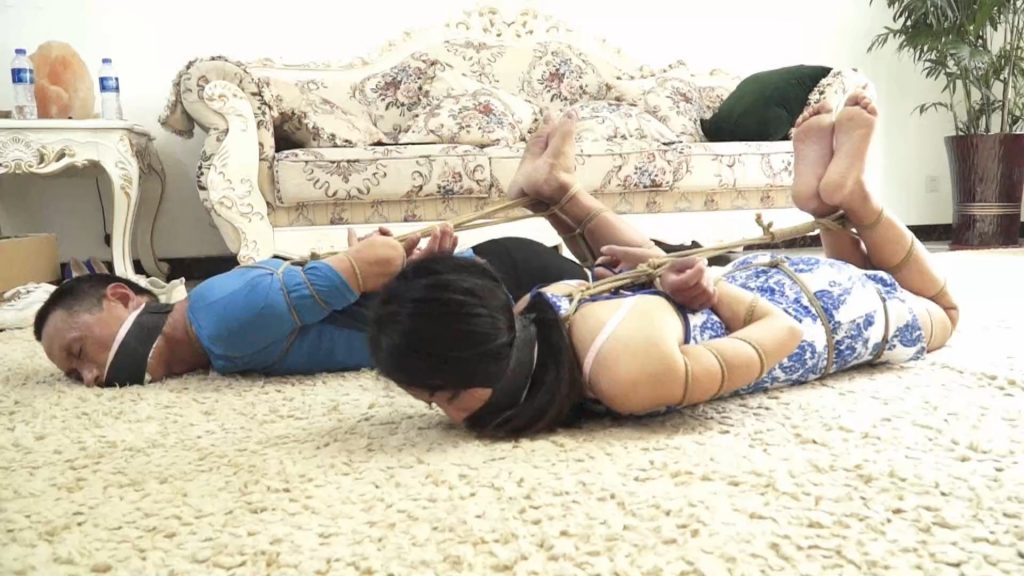 Plot: Xia Yan, a beautiful woman wearing a blue-and-white cheongsam, came home with a smile and found her boyfriend sitting on the sofa and tied with five flowers.
Seeing her fiercely struggling boyfriend, Xia Yan did not hurry to loosen her boyfriend, but thought her boyfriend was playing a self-binding game, mocking the bound boyfriend.
Xia Yan, who smiled, didn't know that the sunglasses mask behind him was close, and he didn't react to his boyfriend's struggle and was controlled by the robber.
The robbers let Xia Yan take off the high heels worn on his feet and wear a pair of white nylon stockings, let Xia Yan take off the mouthball in his boyfriend's mouth, put the white nylon stockings into his boyfriend's mouth, Xia Yan reluctantly did .
Then the robbers threatened Xia Yan not to move, tied his five flowers, legs and ankles tied together and strong, and now Xia Yan and her boyfriend are the same, let others slaughter.
The robber took off the shoes on Xia Yan's boyfriend's feet and wore a pair of flesh-colored nylon stockings, pinched Xia Yan's nose and forced him to open his mouth, and put two nylon stockings into the mouth of Xia Yan. The expression is painful.
The robbers were sealed with yellow electrician tapes at the mouth of Xia Yan and Xia Yan's boyfriend, threatening the two on the sofa not to move, and went to the bedroom to continue to look for property.
Xia Yan and her boyfriend complained and complained, twisting their bodies and struggling, but the ropes did not move. The two men struggled for a while and then wanted to lean back on the ropes. I didn't expect the robbers who had collected the good things to find out, the robbers. The two men were then bundled into Hummer and kneeled on the ground.
The robbers used pink electrostatic tape and black self-adhesive bandages, which were wrapped around the circle of Xia Yan and Xia Yan's boyfriend. They had the style of American old wolf and old wolf girlfriend GRM. Finally, the robber took the mobile phone to the embarrassed couple on the ground to take pictures, but also deliberately shook in front of the two people to humiliate, with the stolen property left.
Xia Yan and her boyfriend struggled fiercely on the ground and struggled for a long time. It was still useless for a long time. In the end, the two were exhausted and bowed their heads helplessly.
File name: XiY449.mp4
File size: 1,08 GB
Duration: 00:33:57
Video: MPEG4 Video (H264) 1920×1080 25fps 4459kbps
Audio: AAC 44100Hz stereo 128kbps
---
Download: