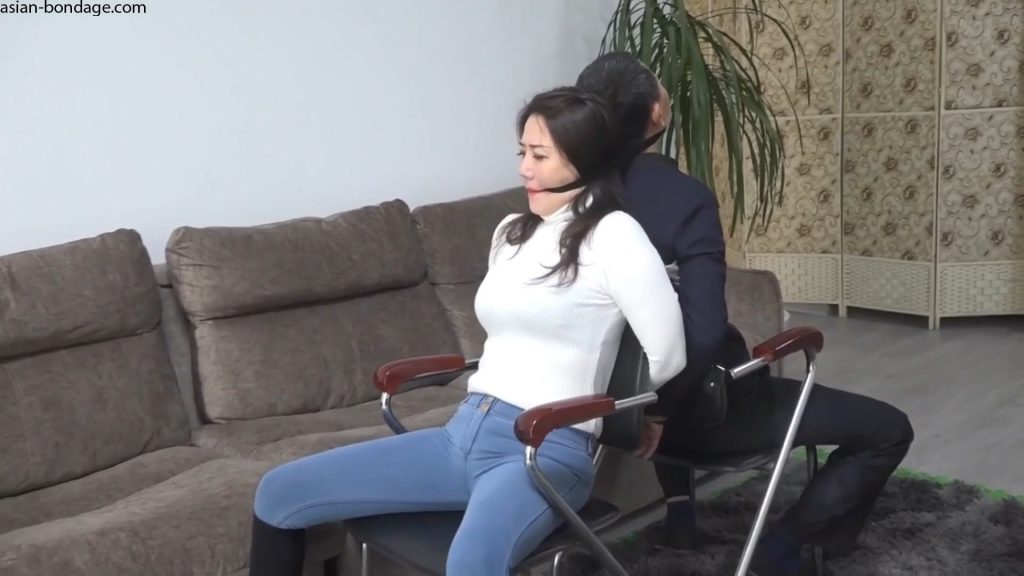 "Xiaoyao drama, starring Li Ran. The whole film this time will last 4 hours and will be distributed in four episodes. This film is a male and female bondage, but I first declare that it is just an attempt, I am not a male M! And considering the majority of fans, after getting the film, he deliberately produced a whole film that removes all the men's bindings. So, this time the clip is 1 hour in total. In the first 34 minutes, it was a film that I personally edited and covered all the men. Those who don't like to see men can also eat it with confidence. After 34 minutes, it is equivalent to the full version without cover. In fact, I see too many female and female bondages, and occasionally watching a little bit of male and female bondage, it feels a little bit of adjustment. The general plot of the first episode: Lin Jing, the captain of the female well, received a report that the boss Wang, the rich man, was kidnapped. Through investigation, Lin Jing found the bandit's den alone. Just as they wanted to rescue Boss Wang, the culprits came and tied Lin Jing and Boss Wang together. And the two were tied together in a fancy way, and saliva was collected. And under duress, they ordered the two to drink each other's saliva. Lin Jing struggled frantically, but it was useless. What will be the fate of the two? The whole story is that Lin Jing wears stockings, but this episode has no stockings, but the next three episodes, especially the second two episodes, will have very sexy stockings. But before the picture above, I would like to declare again: The preview is a picture I made 34 minutes before covering the man. You can eat it with confidence. If you want to see the full version, start directly from the 34th minute.
The first 34 minutes was the version that blocked the man. The last 34 minutes is the full version. The story continues from the previous episode. The female team leader Lin Jing and Boss Wang were tied up in the living room by the robbers, and they changed their mouths from cloth groups to tapes. The two struggled for a long time, and then the robbers had a whim, tied the two back to back, and used a pair of silk stockings to strangle their mouths at the same time. Lin Jing kept struggling and tried to speak with her reined mouth. Later the robbers came over and took off Lin Jing's boots. Lin Jing showed her beautiful feet in silk stockings. The robbers tied Lin Jing and Boss Wang in the living room again, and then left. Lin Jing struggled, rubbing away the silk stockings that boss Wang was strangling with. Boss Wang suggested that he take out the stockings from Lin Jingle's mouth with his mouth, but Lin Jing was too ambiguous and refused. Then Boss Wang found the mobile phone on the ground. Lin Jing used her silk stockings to get the mobile phone, but the silk stockings were too slippery to dial. So, Lin Jing put her stockings to the front of Boss Wang, Boss Wang took out the stockings from Lin Jing's feet with his mouth, Lin Jing dialed the phone with bare feet, and the two were finally rescued!
Introduction to this episode: Lin Jing, the leader of Xingjing Battalion, has been undercover in a Y group since his last escape. On this day, she received a door-to-door service notice, thinking that she had penetrated the enemy's interior. So Lin Jing changed into super sexy clothes, put on a shiny stockings, and came to the service location. However, what she didn't expect was that it was Boss Wang who was waiting here. Lin Jing thought Boss Wang just called for a special service, and happened to call herself. She despised Boss Wang very much and turned away. But when I thought about it, the kidnapper hadn't been caught last time, so I turned around and kindly reminded Boss Wang. Unexpectedly, Boss Wang seized the opportunity to catch Lin Jing and took out the stockings that Boss Wang helped Lin Jing take off with his mouth when the two were kidnapped last time. After the last incident, Boss Wang has fallen in love with Lin Jing. He designed to lure Lin Jing over and offered very generous terms, wanting Lin Jing to be his own woman. Of course Lin Jing wouldn't agree, but he didn't expect that Boss Wang would tie Lin Jing with his bow. Lin Jing was wearing sexy clothes and was tied up by Boss Wang. He was gagged by silk stockings and covered in white cloth. After struggling to no avail, Boss Wang tied Lin Jing into a horse and put on a cheek. And put a saliva-collecting plate in front of him. After collecting the saliva, Lin Jing was gagged again by the ball. Boss Wang came over, stroked Lin Jing's stocking legs, and drank the saliva just collected in front of Lin Jing. Lin Jing shook her head frantically. After that, Boss Wang fainted Lin Jing and wanted to change her posture. But Lin Jing pretended to faint. When Boss Wang just let go of Lin Jing's hands, Lin Jing couldn't care that she was still gagging, and immediately subdued Boss Wang. Lin Jing took the ball from her mouth and stuffed it into Boss Wang's mouth. I just wanted to arrest Boss Wang, but I didn't expect a person behind him and held Lin Jing's head with a gun. Lin Jing slowly turned around, exclaimed… In the first 24 minutes, I edited the man completely. Film. Those who don't like to see men can also eat it with confidence. After 24 minutes, it is equivalent to the full version without cover.
Introduction to this episode: After Xingjing Captain Lin Jing captured Boss Wang, he suddenly fell behind and turned around and found that it was the last kidnapper. It turned out that the kidnappers didn't succeed in their last action, and wanted to come back to tie Boss Wang, but unexpectedly found Lin Jing again, and she was dressed so sexy. The kidnapper strangled Lin Jing's mouth with silk stockings, and ordered Lin Jing to take off his shoes, revealing the silk stocking feet of the glittering stockings. Then he molested Lin Jing, and then tied Lin Jing and Boss Wang in the living room. Lin Jing was strangled by silk stockings, while Boss Wang was gagged by a towel. Lin Jing and Boss Wang struggled, then the kidnappers came over and exchanged their gags. Put the towel that Boss Wang put into Lin Jing's mouth, and pulled the wet stockings that strangled Lin Jing's mouth into Boss Wang's mouth. Then he took out a countdown bomb and pressed the button, and the two struggled frantically. After struggling for a period of time, the kidnappers made a strange move. They hugged the two and tied them together, then stuffed the explosive bomb into Lin Jing's backless clothes, and then left. Lin Jing struggled frantically, and finally broke free of the rope and unlocked the bomb. Then, ignoring that her mouth was still stuffed with stockings and tape was sealed outside her mouth, she first untied Boss Wang, and then tore off the tape on her mouth and the meat stockings in her mouth. The two were finally saved. Boss Wang apologized to Lin Jing, and Lin Jing said that he would go to the bureau first. Just when Lin Jing was about to go out, Boss Wang suddenly attacked from behind and tied Lin Jing with silk stockings. Lin Jing wanted to call for help, but in an instant, her mouth was tightly stuffed with a pair of black stockings. More than that, Boss Wang also covered Lin Jing's eyes with black stockings. Boss Wang smiled and said: "Captain Lin, you are still in my hands, hahahaha…" This film is a male and female bond, but I first declare that it is just an attempt. I am not a male M! And considering the majority of fans, after getting the film, he deliberately produced a whole film that removes all the men's bindings. So, this time the clip is 1 hour in total. In the first 24 minutes, it was a film I edited personally that covered all the men. Those who don't like to see men can also eat it with confidence."
XiY560.mp4
Size 1920×1080
Length 03:47:47
Video codec H264, 6000 Kbps
Audio codec AAC, 128 Kbps
Container MP4
Filesize 9.8 GB
---
Download: