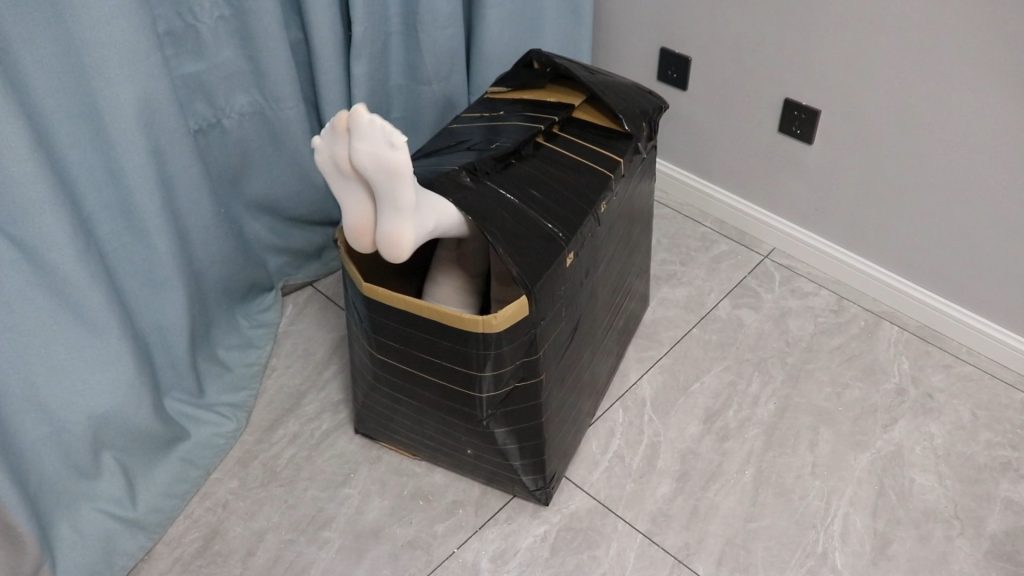 "Chacha seems to have always liked object-oriented and closed play, so today I also gave Chacha a closed boxing experience.
I plan to put the cute Shikushui swimsuit and barefoot little loli Chacha into this box and completely seal the whole box with tape. All six sides were wrapped firmly with tape.
During this period, the girl struggled violently: Want to come out? Then break the whole box and get out, otherwise it will be sealed inside for the rest of your life~!
Well, I am determined not to give Chacha any help and let her come out on her own.
I don't know if I can come out yet. If I can't come out, I'll seal it to the limit.
Well, as a coffee table filling, Chacha should be very happy.
—–
Chacha was very confident at first, saying that she would be able to come out soon, just by kicking her feet. When he had enough fun and wanted to get out, he found that he had underestimated the power of the tape. No matter how hard Chacha kicked his little feet in the box, it didn't help. Chacha tried so hard that she kicked the box out of shape, but under the influence of the tape, it quickly returned to its original shape and was squeezed back into the rectangular shape of a box. Chacha cried anxiously inside, so I had no choice but to show mercy and provide a physics plug-in – a toothbrush. Chacha used the handle of the toothbrush to poke it open little by little and then managed to get out of the box. Afterward, Chacha said that if she didn't have the tools, she might never come out.
Absolutely real emergency situation: In the end, Chacha managed to break a hole in the box with her foot, but a funny scene occurred: Chacha's foot actually got stuck outside the box! Chacha wanted to use her other foot to break through the box, but sadly found that the other foot was also stuck! The video was really hilarious. I laughed out loud. Chacha's bare feet were stuck outside the box and she howled angrily. It was so cute and funny!
Absolutely true, it completely records the entire escape process and unexpected situations, including providing help to the confident Chacha, Chacha's little foot getting stuck, etc. A very satisfying work!
This time, let Chacha wear white silk stockings to increase the difficulty – this time, Chacha's hands will be clenched into fists and wrapped with silver tape, and then Chacha's hands will be tied behind her back, and her two forearms will be tied together tightly. There is no possibility of using hands to assist in unbinding! Because Chacha had already experienced it once, Chacha was not given any tools this time, his hands were tied behind his back, and his fingers were wrapped into fists with tape, so Chacha could only rely on his little white silk feet to kick open the box and escape. Completely closed + boxed + taken out, challenge + a lot of close-ups of white stockings, the super cute little girl with twin ponytails and white stockings DID experience on the soles of her white stockings"
CCC57.mp4
Size 1920×1080
Length 01:42:19
Video codec H264, 5023 Kbps
Audio codec AAC, 130 Kbps
Container MP4
Filesize 3.7 GB
---
Download: