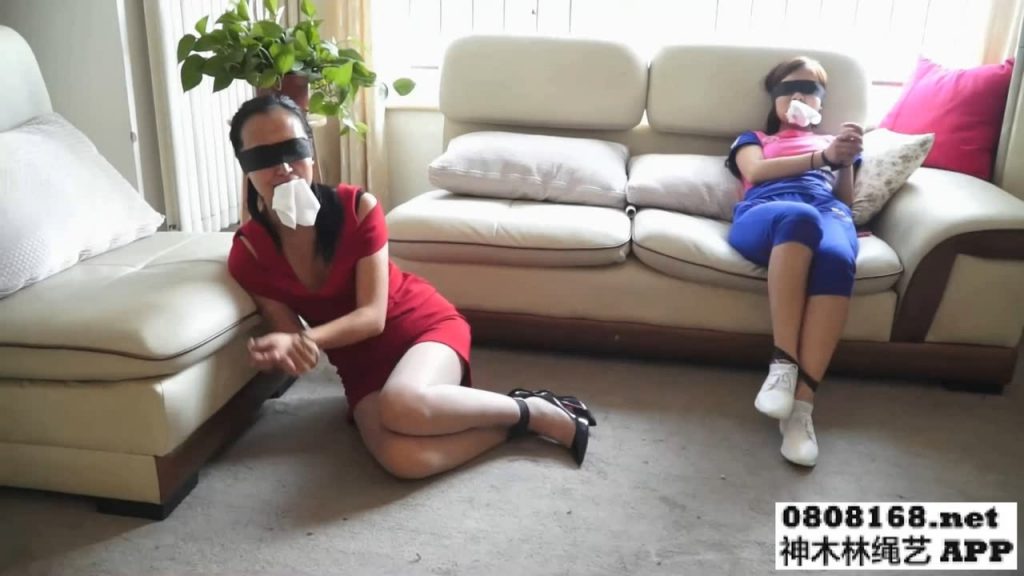 Yu Jie is the owner of a hair salon. Although she has married, she earns a few money from her hair salon and raises a lover. Lily did not work but earned a lot of money by relying on private currency exchange. Both of them love to tie up games and often play together. The relationship is good.
Today, they got together and played again.
They are tied to each other first. Then the game, who first got rid of the shackles. The loser must accept the other person's punishment.
In the process of her sister's struggle, she knocked over a box.
Lying down, actually all is the renminbi.
Yu sister began to get excited and obsessed.
Although sister Yu is a boss, but now the hair salon is not in a good business, and she still owes a lot of gambling debts, and she needs money.
Yu sister imagined that she first broke free of her bondage, and then she went to tighten the bondage of Lily.
Then push her into the toilet.
Then tie her to the toilet.
In the end, Lily was proudly liberated. Lily was also very happy that she thought it was a punishment.
Then he walked away with the cash box.
The elder sister thinks more and more happily, puts the money back in the box, prepares to realize one's own obscenity.
unfortunately! It was Lily who broke away first.
The humiliation of the sister received the punishment. In the end, Lily played enough before she left.
The sister's dream shattered. She was unhappy, but she did not have a seizure. She walked silently, but she did not go home but went to his lover's home.
Yu Bai's lover, Xiao Bai, is playing with her cell phone. She is unhappily walking in and facing her.
Xiaobai put down the phone and asked, "Oh, my dear, what's wrong?"
Yu Jie: "Oh, the hair salon is not in a good business, but it also owes gambling debts. I feel so good!"
Xiao Bai: "Nothing is all right, gambling money, winning or losing, and winning back later, I also lost 30,000 today."
Yu Sister: "You don't lose that. If you just lose so much, I won't be like this."
Xiao Bai: "How much do you lose?"
Yu sister: "1.5 million."
White said very calmly: "It's okay. Isn't your husband special money? Whatever it is, you'll slowly win!"
Yu Sister: "This is not the same. This money is for the parents who will be sent to their hometown by the end of the year to build a house. No one can move and it is clear to what has been written. I
Afraid that if he finds out, he will go down and it will be bad to find you. We must think of ways to get money! "
Xiaobai thought for a moment and said, "When it comes to making money, I heard that my girlfriend Lili has recently made a private foreign currency exchange. Although she is a little unlawful, she has made a lot of money.
money. One month and a half say that there are also two or three hundred thousand dollars of income. If you engage with her, then earning one hundred and fifty thousand at the end of the year is not a problem! I think you often have
I think if you go to him, she should help you. "
Yu Sister: "Twenty to three hundred thousand people are not enough for this month, and we have to get together at the end of the year. If he does this in time, he will be discovered!"
Xiao Bai: "This is also the quickest way to earn money. How long can an ordinary person earn 20,000 to 300,000? How can it be possible to earn 1.5 million in a short time?
Unless you're robbing the bank! "
After the sister bowed her head for a moment, she suddenly said with a smile: "This idea is good!"
Yu Jie: "You're crazy, go grab a bank?"
Yu Jie: "No, of course not. I think of a good plan. We rob Lily directly."
Xiao Bai: "Robbing is also going to jail!"
Yu sister: "No, as long as the plan is seamless, nobody will know what happened!"
Xiao Bai: "What idea do you have?"
Yu Jie: "First of all, let's go to the hotel for a few days, and then you come back two days earlier than me. When I meet her on the road, she will surely wonder why.
We disappeared for a few days, and why didn't I stay with you? Then you told her that the two of you had gone to Macau. You had something to come back first. "
Xiao Bai: "Why is it Macau?"
Yu Jie: "Oh, that's the point. When I get back, I say I won two million MOP. Then, in our gossip, I would accidentally
I revealed the news that I had won the money. Then I also said that I wanted to change this to RMB. Such a large number of she will certainly be on the hook, and then let me take the money to deal with her. "
Xiao Bai: "I understand what you mean. Do you want to get your money when you trade? This is not a robbery. What is the difference?"
Yu Sister: "No, it's not the same. You disguised yourself as a robber, then came in and tied me and she, and tied me under her eyes, then took the money away."
Xiao Bai: "What? This can be."
Yu Jie: "Or, kill her, live in another place!"
Xiao Bai: "Oh? Killing? Robbery looting, why do you want to kill people? If you want to kill, I will not do it!"
Yu Sister: "Hey, how are you so embarrassed. Do it and do not kill her. It's just that the plan will be more detailed."
Xiao Bai: "Where do you plan to grab, how to grab?"
Yu Sister: "It's in our house. So, first of all, I asked her to come to my wife's house and lock the door to prepare for a transaction. Then you took a gun. Right,
Also bring a hammer and smash the lock on the security door. Also, bring a few bundles of rope, tape, and gag. She tied up her money when she got it.
Come and throw it into the bedroom. I tied it up and threw it into the car, and tied me in front of her face! "
Xiao Bai: "And then?"
Yu Sister: "Then you grabbed her car key, tied me up in the car, and drove it to a place where there weren't many people but it was easy to be discovered.
I tied my hands and feet, my thighs were tied, my chest arms were all tied up here, my mouth was blocked, and my eyes were covered. "
Xiao Bai: "You see more of this film?"
Yu Sister: "I'm serious! I'm right. After you throw me in the car, you must disguise it as a rape site."
Xiao Bai: "How do you disguise?"
Yu Jie: "How to disguise? Are you doing this kind of thing for the first time in the car?"
Xiaobai touched his head and said: "I also said."
Yu Sister: "You have to tear my stockings off like this. Right, leave a gap in the car, let me breathe, and let people outside the car
Can hear the sound in the car. "
Xiao Bai: "Afterwards?"
Yu Sister: "She had more than one and a half million of the money she had returned. You took the extra money and fled abroad, and then sent the one and a half million to me.
Good account goes up. On my side, if the police investigates, Lily does not dare to say that it is a private exchange currency, otherwise she still has to be sentenced to a couple of years. Finally, the police
It was treated as an ordinary robbery and rape case. "
Xiaobai kissed her sister (who was on his side, pretending to kiss him) and said, "How are you so smart!"
File name: XiY89.mp4
File size: 964 MB
Duration: 00:32:37
Video: MPEG4 Video 1280×720 29.97fps 4000kbps
Audio: AAC 48000Hz stereo 127kbps
---
Download: