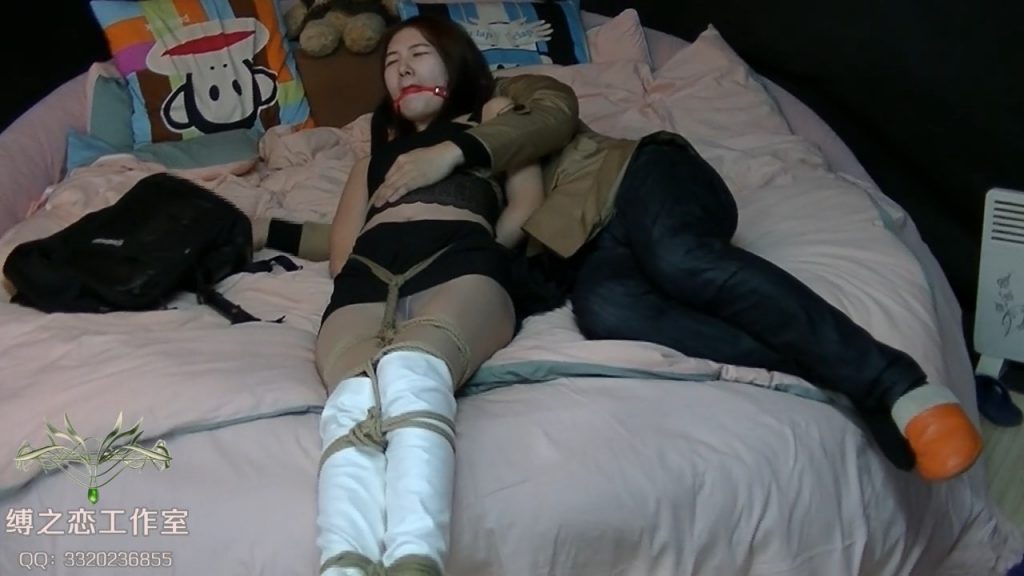 When I came to the bedroom, Xiaogang turned on the elbow to turn on the electric light, and then gently put the bundled Yu Yan on a soft bed. Then he went to the window, pulled the curtains, turned and went to close the bedroom door and lock it. Then, he came to the beautiful woman Yu Yan who was tied up by the rope on the bed. At this time, You Yan was really scared. She did not expect that things would develop to this point. The consequences could be very serious. What else would be counted? I am not giving myself out! Regrets didn't help, the ropes were so tightly tied, and they were in a closed bedroom, tight T-shirts, red short skirts, and stockings white boots. They could only blame themselves for being too beautiful, but now they are likely to take her. Pushing to the eternal situation!
Xiao Gang came to You Yan and licked the hair of Yan Youyan. He said very seriously: "Small sister, I really can't control myself. You are so charming! I want to enjoy you tonight." Don't blame me!" You Yan stopped the unnecessary struggle, she closed her eyes, tears flowed out again…
Xiao Gang took a breath and reached out to untie the button of the white single on the chest of You Yan. One by one, the button was slowly untied by Xiao Gang. He pinched his clothes and slammed it to the sides… Yu Yan's slender waist and cute rounded chest wrapped in a light yellow tight T-shirt are displayed in front of Xiao Gang's eyes; You Yan's youthful and pleasant chest is swaying with her rapid breathing, which is even more exciting. Just desire. Xiao Gang stretched his hand to You Yan's midfielder….Yu Yan was sensitive to the perception that Xiao Gang was trying to unbutton the short skirt behind her waist. She opened her eyes, struggled hard and shook her head. Xiao Gang was stunned by such a fierce reaction from Yu Yan. He took out his hands and held Yu Yan's shoulder. "Small sister, let me appreciate your body, I don't want to hurt you…" Xiao Gangzheng Said… "bell bell…" The phone on the bedside table was ringing, and Xiaogang was shocked! Does anyone have broken their own good deeds, Xiao Gang's heart is pounding, what should I do? The ringing of the phone continued, he was terrified, hesitating… He was stunned and he hurriedly took out a dagger from his trouser pocket and said to Yu Yan with a trembling voice: "Small sister, I will let you pick this up. Phone, you don't want to talk nonsense, I don't want to hurt you, don't force me! I really don't want to hurt you!" After Xiaogang unveiled the tape on Youyan's mouth, You Yan licked the lips of the people and said calmly. "I don't talk nonsense!" So, Xiaogang's microphone was handed to Youyan's ear, and he himself leaned back to listen to the voice at the end of the phone…
"Hey? Hello!…Hey?" You Yan didn't expect the other party to hang up at this time. Xiao Gang hurriedly hung up the phone, and there was no danger. You Yan is somewhat disappointed, but now is a self-help opportunity. She whispered to Xiaogang: "Xiao Gang, don't make trouble again, let me solve it! I just didn't happen anything! Ok?" Just as he was worried about the inexplicable phone call, he hesitated. You Yan did not lose the opportunity to continue: "Xiao Gang, I know that you are a good student, you will not do bad things, you let me go, I will not hold you After all, you are my student!" Xiaogang believes what Yu Yan said, he stood up and fell into a contradiction… Xiaogang was not reconciled, he said with trepidation: "You teacher, can I…" You Yan I felt a little hope, and asked: "What can I do?" Xiaogang blushes and screams, "I can pick up your short skirt? I…" Xiaogang's words made You Yan very embarrassed, so unreasonable How can she agree? But now it seems that she agrees or not, it doesn't make any sense! It's a bit of a feeling of riding a tiger… You Yan decided to discourage Xiaogang as much as possible, saving himself and saving Xiaogang, so she said : "Xiao Gang, you can't do that, then the nature will change…" Xiao Gang interrupted You Yan The words: "As long as you don't say, no one will know, I promise!" You Yan had no words at all, and saw Xiao Gang's stubbornness. You Yan really had no choice! Xiaogang saw You Yan did not speak. Hands stretched out to You Yan's skirt… "I only squat!" Xiaogang still does not care. You Yan is also doing nothing, the face feels hot, can not stop wow, can only… only acquiesced… Xiaogang feels that he can bravely try, his hand is holding a short Yu Yan The skirt of the skirt… "Xiao Gang! Then you have to let me go!" You Yan didn't even know what he was talking about.
Xiaogang, who was "privileged", was so excited that his hand once again caught Yu Yan's skirt. He slowly picked up a little, maybe it was God's intention, just when Yu Yan's skirt had not been exposed. … "bell bell…" The ringing of the phone rang in a hurry. "Xiao Gang, phone!" You Yan hurriedly called Xiaogang. The guilty little Gang couldn't help but be surprised by the ringing, and the skirt of the short skirt also slipped from the hand. Xiao Gang once again hurriedly picked up the dagger: "Especially, especially teacher, you don't want to talk nonsense! I don't want to hurt you!" You Yan replied: "I know!" Xiaogang took the microphone with a sly mood. You Yan ear.
You Yan took a breath, "Hey? Hello! Where are you?" Xiaogang was alert and listened to the voice on the phone. "You teacher! Hello, I am Xiao Liang, are you coming home? I want to visit you and want to send a birthday present to you!" The other side of the phone turned out to be another male classmate Xiao Liang. Xiao Gang can't wait to kill Xiao Liang at this time, he actually wants to come over! "Okay! How long have you been here?" You Yan said that he also risked saving himself. Xiaogang's eyes widened, and he was afraid that he would not speak out when he heard it, but he was even more anxious. "Er, about ten minutes! My dad drove me over!" Xiao Liang replied at the end of the phone. More than ten minutes? Xiaogang almost fainted, and later had to break the bastard! You Yan said: "Oh, well, I am waiting for you to come to the door!" "Well, see you later, especially teacher!" Xiaoliang at the end hangs up the phone.
Xiaogang put the microphone back, and Yin Yan, who was angry and angry, said, "How do you agree with him?" You Yan quickly argued: "He wants to come over, I am not good to refuse!"
I am afraid that refusal will make him suspicious! "But…" Xiaogang knew that it was no longer a matter of investigating the phone. For Xiaogang, it was too short for more than ten minutes; and in the case of You Yan, what was the ten minutes? Long!
Xiao Gang can't wait for time to stop, he really is not willing to miss this good opportunity. Seeing that I had to loosen such a beautiful Yu Yan teacher, Xiao Gang regretted that it was a big chest. In order to gain time, Yu Yan has to try to stabilize Xiao Gang: "Xiao Gang, you calm down a bit, I will not say what you are doing today, you can rest assured!" Xiao Gang said: "You teacher, I I didn't want to hurt you, sorry!" You Yan saw Xiaogang with some guilty conscience, and then said: "The teacher forgives you, knowing that you are not a bad student! So, Xiao Liang and his father are coming soon! I can't tie me. Seeing them, you let me go!" Xiao Gang wanted to enjoy You Yan's, and now it seems to be a bubble! Xiao Gang said softly to You Yan: "You teacher, can you let me in the future?" I tied you up like this tonight? I don't want to hurt you!" This seemingly naive problem made Yu Yan laugh and cry, but she must hold Xiaogang: "It is a bit uncomfortable to be tied by a rope, but as long as you Don't do bad things, I can satisfy you!" You Yan replied Xiaogang with a hard-headed scalp. Xiao Gang's heart was filled with a touch of emotion: "Really? Thank you, Teacher Yu!" You Yan thought, thank God, finally, this boy was steady! At this time, Xiao Gang suddenly realized that he took out his mobile phone from his pocket: "I have to take photos. A few photos of Mr. You's bundled, you can keep it yourself later! You can also use it as a contract to tie you in the future!" The contract, the implication is to threaten the photo! You Yan heard "ah?" Xiao Gang quickly used The tape re-closed Yu Yan's mouth: "It's more sensation when you plug it out!" He began to be photographed from all angles, and even the face and chest were tied by the rope. The close-up, I am afraid to drop any beautiful picture! You Yan is helpless lying on the bed, his face as far as possible to avoid the camera.
Seeing Xiaoliang, they are almost there, Xiaogang has taken photos of Yu Yan from various angles. He looked at Youyan deeply and looked at her seductive silk boots. Yu Yan was struggling to support her. She hoped that Xiao Liang would come soon. "I want to open your short skirt!" You Yan was stunned when he heard this. Xiao Gang finally insulted her. You Yan stiffened the bed, there was no meaningless struggle, and this time Xiaogang firmly tightened Yu Yan's skirt with his hands!
With Xiaogang's hands gently raised, he finally picked up Yu Yan's short skirt! Xiao Gang straight hooked to look at You Yan's skirt bottom, through the fluorescent shredded pork, You Yan pale pink beautiful triangle The trousers are faintly visible, and the little gang is hot! A cool feeling came from the lower body, which made Yu Yan feel aggrieved. The red face felt the hot temperature, and the tears of humiliation came out.
Xiaogang swallowed his mouth and still stared at Youyan's graceful lower body. The bottom of the beautiful woman's skirt, Xiaogang was the first time he saw it, and he was staring at it. He thought about it. …
"Oh…" The piercing doorbell ring surprised Xiaogang! You Yan's heart finally relaxed, and finally came, and the nightmare is finally over! She struggled, her eyes indicating that Xiao Gang had let go of her. At this time, Xiao Gang was a guilty conscience. He was even more confused and reached out to solve the rope on You Yan's leg. Only then did he find that he did not intend to let Yu Yan open, so he was tied to death.
"You teacher! Open the door, I am Xiao Liang!" The doorway was wearing a small light called the door. Xiaogang paused, hurriedly picked up the phone, trembled and took a picture of Zhang Youyan's skirt, and then he picked up the phone. In a hurry, he used a dagger to cut the rope that tied Yu Yan's legs and hands.
You Yan removed the tape from his mouth and quickly took care of the short skirt with her hand. Then she wiped her tears and quickly stepped out of the bedroom…
"Come on, Xiao Liang!" You Yan opened the door. "You are good teacher!" Xiaoliang was very happy. "How do you feel like you are crying?" At this time, You Yan was like a savior. She was glad that Xiaoliang's urgent moment came: "Oh, nothing. Come, sit in the house!" You Yanben thought that the nightmare was finally over, but she did not expect that Xiaoliang did not enter the house. Xiao Liang put the gift on You Yan's hand: "I don't go in, especially teacher, my father is still waiting for me downstairs. He said that it will not let me disturb you after the night!" You Yan said: " Nothing, you come in and sit down!" Xiaoliang is also kind, don't want to disturb Yu Yan's rest, he insisted: "No, you should rest early! I will close the door for you, especially goodbye!" "After closing the door, I ran downstairs… You Yan left the gift on the ground just to reopen the door. At this moment, the eavesdropping Xiaogang took the opportunity to smash out from the bedroom. He used Bolt's speed from behind. A Dapeng spread his wings and hugged You Yan. Before he even made an instinct to call for help, Xiao Gang quickly vacated a hand and held a small mouth tightly, and used a brute force to drag You Yan into the bedroom. With the belt, close the bedroom door again…
Yu Yan felt an unprecedented fear, she was forcibly dragged to the bed by Xiao Gang. "Small sister, I don't want to hurt you, I let you go, don't yell!" Xiaogang slowly let go of his hands. "Xiao Gang, don't go wrong anymore!" You Yan tried to discourage Xiaogang. "In order to get you, I can't manage that much!" Xiaogang replied, "Small sister, I am wronged, I don't want to hurt you, let me tie you back again?" You Yan doesn't want to be in trouble again. Try to enlighten Xiao Gang: "You don't want to do that. I forgive you for not pursuing the previous things. Xiaogang is on the brink! When Xiaoliang came, I had a chance to escape. The reason why I didn't do it was to I don't want to ruin your future." Where did Xiaogang listen to it, he couldn't help but say that he would re-bundle You Yan! "Don't do this, Xiaogang!" You Yan is still blocking Xiaogang. The bed was scattered with the rope that had just been cut by the dagger. Xiaogang provoked the longest rope and advised Yu Yan: "Small sister, I am very grateful to you for thinking about me. I don't want to miss this opportunity. You know that I have a dagger. But I don't want to hurt you, don't struggle! I will tie you up. Don't you want to expose those beautiful photos?" You Yan is really speechless in the face of Xiaogang's WEI threat. At this point, Xiaogang grabbed You Yan's hands and twisted back to the back, then slowly wrapped the rope around You Yan's wrist. You Yan also has no way to stop Xiaogang. Even if he struggles and does not let Xiaogang tie up, he can't convince Xiaogang. At this time, Yu Yan is like a puppet, and is surrounded by Xiaogang.
Xiao Gang once again tied Yu Yan's hands behind his back. You Yan found that Xiao Gang was tied tighter and his hands could not move at all. "Xiao Gang, the teacher doesn't want to ruin you, don't you do anything for the teacher?" You Yan really has no way, it is to talk about conditions with Xiaogang. Xiaogang did not expect that Yu Yan would say this, "Small sister, you are so good! I… I try to be!" Xiaogang's heart calmed down a lot. "Xiao Gang, how long do you want to tie me?" You Yan asked. "Er… two hours…" "Ah? How bad it is!" You Yan interrupted Xiaogang. Xiao Gang busy said: "That an hour, tied for an hour!" Although he said so on his mouth, Xiaogang's heart is definitely not just trying to tie up for an hour. Just tie Yuyan's hands and feet and tie it for a long time. Said the calculation? ! You Yan thought that he and Xiaogang said that it would work: "Well, just an hour, you have to let me go!" Xiaogang said: "Okay!"
The remaining scattered ropes on the bed are short. Xiaogang said to You Yan: "My big pocket is still in the living room, there are ropes, there are other utensils!" You Yan only thought about hurrying for an hour. "Then you go get it, my hands are tied up, and I can't run. Anyway, after an hour, you have to talk and talk." Xiaogang was very excited. He went to the living room and smashed the big pocket into the bedroom. The door is seriously locked, and he plans to enjoy Mr. You Yan.
Xiaogang opened the pocket and took out two bundles of rope from the inside. He let You Yan lie on the bed and put together the beautiful legs of You Yan's beautiful silk boots. They are really tied up with ropes… respectively in the thighs and knees. The ankle is tied with 4 ropes. The binding of the thigh part still uses the rope tied to the waist, so that the rope tied to the thigh does not slip off! The role of the rope tied to the waist, in fact, not only that, only Xiao Gang knows in mind… You Yan sees Xiaogang tied very seriously: "Xiao Gang, how do you have this kind of good? Really can't take you!" I just didn't agree: "It's a hobby, because Xiao Youjie is so good!" You Yan looked helplessly as his legs were tightly bound by Xiaogang.
You Yan tried to move and found that Xiaogang was tightly bound and his hands and feet were completely restrained. At this time, Xiao Gang had a red ball from the pocket! Where does Yu Yan know what it is, she asks: "What is this?" Xiaogang said with a smile: "This is why… I tell you how to use it! You open your mouth!" You Yan felt It's not a good thing. It's a little contradictory. "I'm not showing it. You told me what it is doing?" Xiao Gang's insidious use of pinching Yu Yan's nose, Yu Youyan's agile mouth when breathing. Blocked in You Yan's little mouth! "呜…呜…" You Yan knows that this ball with a belt connection is used by Xiao Gang to block her mouth! Xiaogang blocked the ball and tied the belt behind Yu Yan's brain. This time, Yu Yan can't move and can't make a sound. Xiao Gang looked at Yu Yan, who was tied to the bed. The beautiful body was tightly tied by the rope. The small mouth was also tightly blocked by the ball. The beautiful curve of You Yan's figure once made Xiao Gang feel the blood. It is difficult to hold on to it.
You Yan endured the restraint of the rope. She couldn't bear to be a high school student who was imprisoned because she was detained. As a result, Xiaogang's life was ruined. I hope Xiaogang will be influenced by himself. Xiao Gang feels like dreaming at this time. The beauty teacher who has been in love for a long time is really tied to the bed, so beautiful, so moving!
Xiao Gang gently opened Yu Yan's coat, so that Yu Yan was exposed by the sleek chest of T-shirts. You Yan was unable to protest, and could not stop Xiao Gang from admiring her beauty! Xiaogang took the last rope from his pocket. He took the rope through You Yan's armpit and wrapped it around the beautiful chest of Youyan for 3 times and tightened it. This way, You Yan's chest became more plump and attractive. . You Yan was amazed at Xiao Gang's move. She couldn't think of a high school student. She actually had a way to tease herself! I can't move myself, I can only let Xiaogang be at the mercy…
Xiao Gang looked at the stunner around and couldn't help but hug up. At the beginning, Xiao You's teacher struggled against it. Later, when he struggled, he slept in the past!
File name: BL2.mp4
File size: 587 MB
Duration: 00:26:34
Video: MPEG4 Video (H264) 1280×720 25fps 2956kbps
Audio: AAC 48000Hz stereo 128kbps
---
Download: