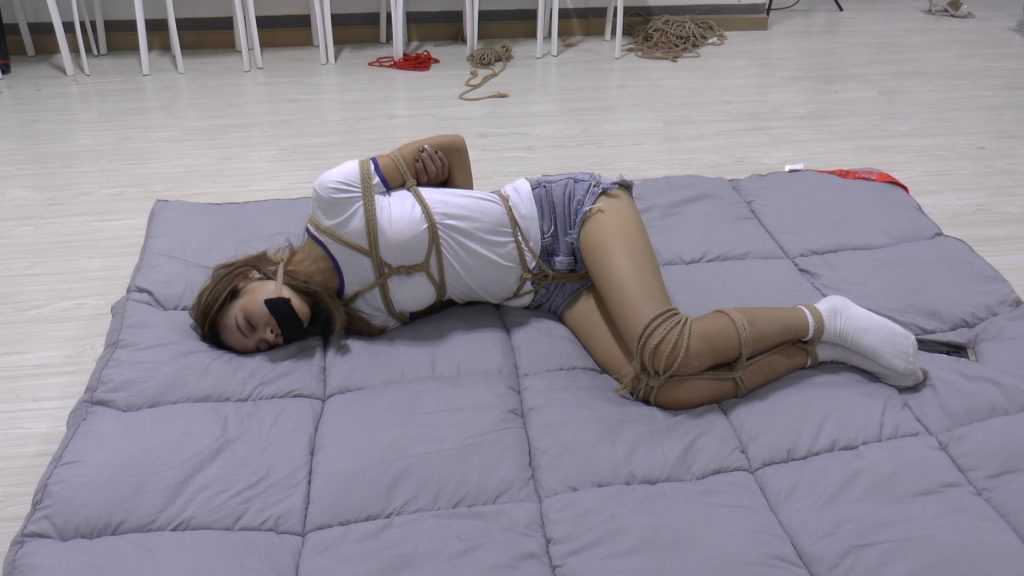 Ma San drove with a beautiful woman, stopped at the beauty side, and shook the window and asked, the beauty was very enthusiastic to answer Ma San, Ma San got off the supermarket thanks. The beauty said that you are welcome, Ma Sanshun pushed the beauty into the car, blocked his mouth with tape, and put on handcuffs and ankles.
Drive with a beautiful woman to leave.
Ma San untied the beautiful ankles, and then helped the beauty into the home of Ma San (a section of the corridor). Ma San opened the door and put the beauty on the bed. Untie the beautiful handcuffs and ankles. Replace the following binding method. Block the mouth of the beautiful woman with stockings, then stick it with tape
After he was tied up, he briefly introduced himself and said that he was a trafficker, saying that you would soon find a master. If your master is good, look at your luck.
Then, Ma Mimi looked at the beautiful woman, and said that this girl is really beautiful, it is a pity that I don't play. Then take off the beautiful women's shoes, and then scratch his foot, by the way, stroke the beautiful woman's legs. Beauty has been struggling. Revolt.
After a while, Ma San, I said, I still have some things, I have to go out for a trip, you are alone in this catch, come back, if I find that you want to run away, you have a good time. Said, Ma San will leave.
After Ma San left. The beautiful woman began to frantically struggle, but the rope was very tight and could not break free. The beautiful woman rolled from the bed to the bed and wanted to call 110 with her foot. When the beautiful woman dialed 110, the opposite side was opened, the man's voice, said that the phone has been heard of special handling, all the calls will be passed to me, you will wait for me to go back and be cleaned up. The beauty heard this and gave up the struggle. lie on the floor.
Ma San came back, opened the door, untied the beautiful woman's rope, and threw it to the beautiful woman's other clothes. Call her to change it back. The beauty quickly changed clothes. The man began to bind the beauty again, tied as follows: take the ball, the stockings blindfolded.
Ma San said, see how I clean up you, the man took out the scorpion to beat the beauty, scratching the beautiful feet. Playing beautiful ass. Then, when it comes to it, it will tie you one night. See you honestly not honest
The next day, Ma San said, I will unlock you, you have been bought. Give you a tie, and then you can go to enjoy it. Speaking, the beautiful woman made a screaming voice and struggled with her last strength.
The man untied the beautiful woman's rope, simply tied the beautiful woman's hands and feet, blindfolded, and took the ball. Putting the beauty on the bed, I said, now it's eight o'clock, and the eight-point buyer is here. Said, the beauty began to struggle. Ma San said, then I will finally play with you.
a while. The knock on the door came. It is not the buyer but the police. (This paragraph does not need to appear in the video, just show it in the last subtitle)
Subtitles: When changing clothes, the beautiful woman wrote the SOS on a hundred dollars and threw it down. The people who got it quickly reported to the police. After investigation, the police found that this was an organization selling parents, and they pretended to be a buyer. Off the entire criminal gang
File name: MeiShu75.mp4
File size: 5,35 GB
Duration: 00:57:24
Video: MPEG4 Video (H264) 1920×1080 25fps 13147kbps
Audio: AAC 48000Hz stereo 192kbps
---
Download: