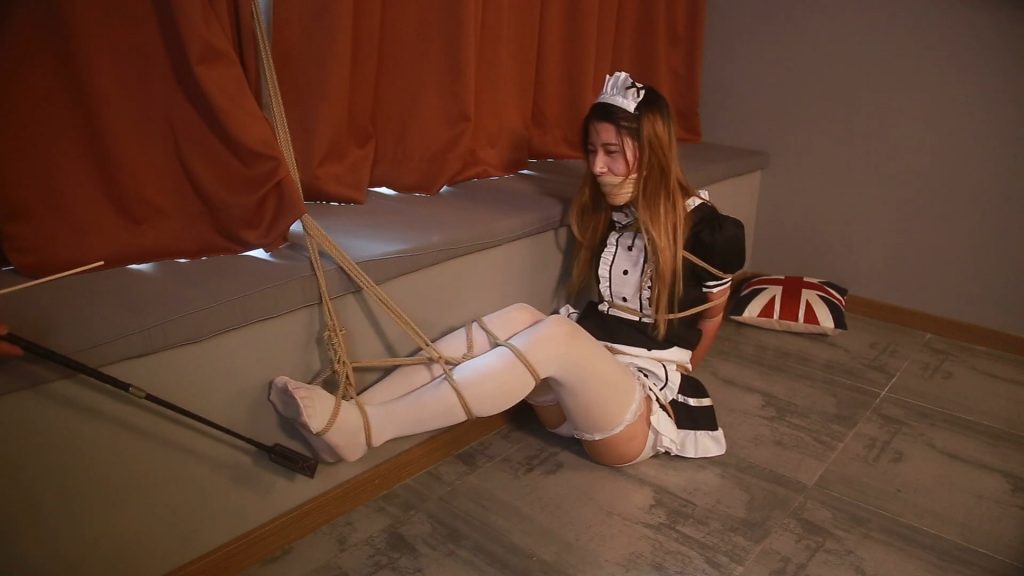 "The game officially began, and the upper part of the beauty wearing the maid costume was completely tied, and only the white silk was free.
The beauty of the restraint game is the authenticity. I only see the beautiful woman's difficult use of white silk to hold the paper ball, and then use the white silk toe to clip the paper into the trash can, a very real paragraph. Of course, in the end, our poor beauty is also tired and sweaty, and the white silk legs are sore.
Unexpectedly, the difficulty gradually increased, and the poor beauty was tied up and continued to challenge the game.
The following is also a very real paragraph, the beautiful woman who is tied up is staggering, the station is not stable, stumbling, the difficulty has increased a lot, very interesting.
The beauty of the fixed position is enough to reach the pillow behind it, it seems very simple challenge, but it is very difficult.
The beautiful woman just wanted to get the pillow behind her, but the arm was fixed with the body immediately, so after the foot of the stockings was fixed, how could the pillow not reach, and the anxious beauty was sweating.
Beauty wants this is not the way, she can only waste a lot of the world in a limited time to unlock the rope on the wrist.
But when I was unbinding, I didn't have much time to waste myself. She hurried to get enough pillows, but because of the fact that Baisi's legs were fixed and tied, every time I could almost get there, the anxious beauty shouted. .
The last challenge failed, the beauty was tied and began to itch and punish. This is a very interesting, irresistible and escaping beauty. The poor white silky feet were scratched for 5 minutes. The last time the beauty couldn't stand it, it was very interesting."
File name: BH28.mp4
File size: 1,47 GB
Duration: 00:39:11
Video: MPEG4 Video (H264) 1920×1080 25fps 4998kbps
Audio: AAC 48000Hz stereo 384kbps
---
Download: